Parasport nr. 4 – december 2022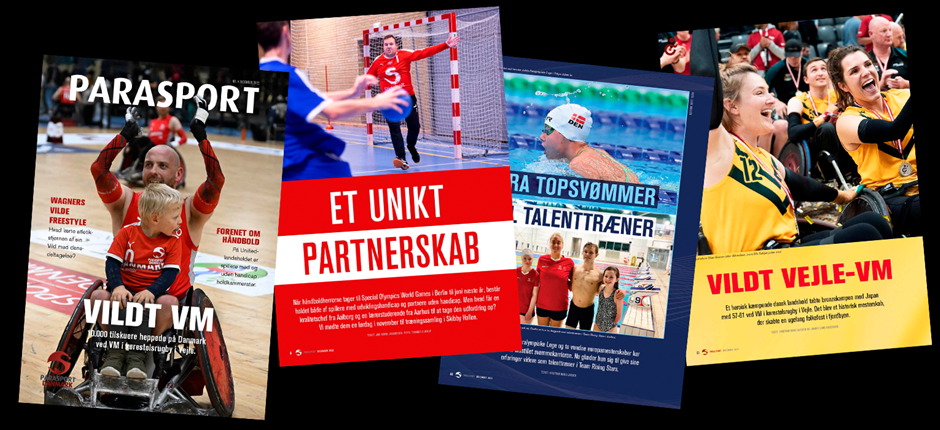 Leder  
Rusland og Hviderusland hører ikke hjemme på den paralympiske scene 
Daniel Wagners vilde freestyle 
Daniel Wagner valsede i efteråret ud af sin komfortzone og ind i en halv mio. danskerhjerter med sin deltagelse i Vild med dans. Vi har talt med parasport-profilen, der blev folkeeje.  
Et unikt partnerskab 
Hvad får en kvalitetschef fra Aalborg og en lærerstuderende fra Aarhus til spille håndbold med spillere med udviklingshandicap? Mød to af partnerne på Unified-landsholdet.  
#Ung&stolt: Batdreng med selvtillid  
Alexander Persson var blot ni måneder gammel, da han blev ramt af en blodprop i hjernen og fik cerebral parese. I dag har det 11-årige bordtennistalent fundet fællesskab og ligesindede i Team Rising Stars. 
På tærsklen til Hall of Fame  
Endnu er ingen parasportsatelter blevet optaget i sportens Hall of Fame. Hvornår sker det?  
Fire bud på en Hall of Fame'r fra den danske PL-historie  
Her er fire parasportsatleter fra historien, der fortjener at blive optaget i sportens Hall of Fame.
Sportsnyheder
Efteråret bød på en række flotte præstation i parasporten, herunder fire VM-medaljer i bordtennis, badminton og skydning. 
Fællesskab og sport som drivkraft 
Sportslejren 'Den Gode Oplevelse' rykkede ved Kristine Byskov Nielsen og Dennis Jakobsen grænser, og gav dem nye fællesskaber at vokse i.
Vildt Vejle-VM
Et heroisk kæmpende dansk landshold tabte bronzekampen mod Japan med 57-61 ved VM i kørestolsrugby i Vejle. Det blev et historisk mesterskab, der skabte en ugelang folkefest i fjordbyen. 
Mesterlige mesterskaber
VM i kørestolsrugby var også fællesskab, venskaber og samarbejde. Møde fem af de mennesker, der var med til at gøre mesterskaberne i Vejle til noget særligt.  
Fra topsvømmer til talenttræner
Efter 14 år, tre Paralympiske Lege og to vundne europamesterskaber har Amalie Vinther indstillet svømmekarrieren. Nu glæder hun sig til give sine erfaringer videre som talenttræner i Team Rising Stars.
Frivillig IFORM: Glad helt ned i maven
Tine Rasmussen fra Parasport Frederiksberg er stolt over at gøre en forskel for andre. Og at de gør en forskel for hende.  
Lækker tilgængelighed
Verdensmester i paradressur Katrine Kristensen anmelder det nye supertilgængelige hotel CPH Strandpark i Kastrup.  
Siden sidst
Korte nyheder fra parasportens verden. 
Nye klubber & tilbud
Se om der er nye parasportstilbud i dit  lokalområde.