Alle kan dyrke præcisionsorientering, men den primære målgruppe er gangbesværede, kørestolsbrugere, amputerede og spastikere.
Præcisionsorientering for personer med et handicap er bygget op omkring samme principper som 'orientering i almenidrætten, og derfor er para-atleten medlem af en almindelig idrætsklub, der er tilknyttet Parasport Danmark.   
Præcisionsorientering går ud på, at man ved løbets start får udleveret et kort, hvorpå posterne er indtegnet. Sammen med kortet får man også et klippekort, samt en postbeskrivelse.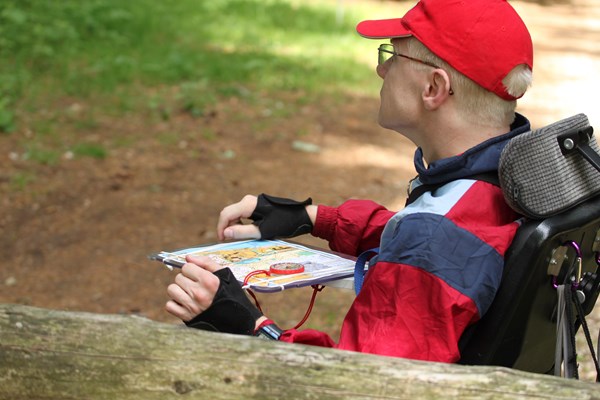 Nu skal man rundt til hver enkelt post i den rigtige rækkefølge. Når man kommer til posten, er der placeret 2-4 postskærme inde i terrænet. Her gælder det om at udpege den rigtigt placerede skærm ved hjælp af kortet og postbeskrivelsen. Ud over posterne, som er indtegnet på kortet, kan der være indlagt op til to tidskontroller. Når man kommer i mål, bliver antallet af rigtige poster talt sammen. Tiden/tiderne fra tidskontrollen bliver udregnet, og den der har flest rigtige, samt brugt mindst tid ved tidskontrollerne, har vundet.
Som para-atlet må have en hjælper med rundt. Hjælperen må dog ikke være med i beslutningen om vejvalg eller skærmvalg.
KONTAKT
Idrætsudvalget ved Vibeke Vogelius
Mail: vibeke.vogelius@gmail.com
Tlf: 24 25 55 06
Idrætskontakt Bo Petersen
Mail: bop@parasport.dk
Tlf: 51 59 72 76 
Hvem skal du kontakte?
Idrætsudvalget står for administration og udvikling af idrætterne i Parasport Danmark og er den primære kontakt for medlemsklubber og personer, der har spørgsmål om fx turneringsvirksomhed og landsholdsaktiviteter, som ikke har elitestatus, regler og informationer samt budgetter og landsmøder.
De fleste idrætter uden et idrætsudvalg får udpeget en idrætskoordinator, der i samarbejde med klubber og idrætskontakten varetager idrætsudvalgets funktioner.
Idrætskontakten er idrætsudvalgets primære indgang til Parasport Danmarks organisation og kontakt ift. landsholdsaktiviteter med elitestatus.
label