Goalball er et dynamisk og intensivt holdspil for personer med et synshandicap. Goalball udfordrer spillerne både fysisk og mentalt og forbedrer deres motorik, styrke og orienteringsevne. I goalball er spillernes evne til at kommunikere og samarbejde væsentligt for oplevelsen og glæden ved spillet.
Goalball spilles af to hold, hvor hvert hold består af tre spillere, der er blændet af med en maske. Der spilles med en bold med bjælder i, der kastes langs gulvet, så det er muligt at høre og flytte sig efter bolden for at forhindre en scoring.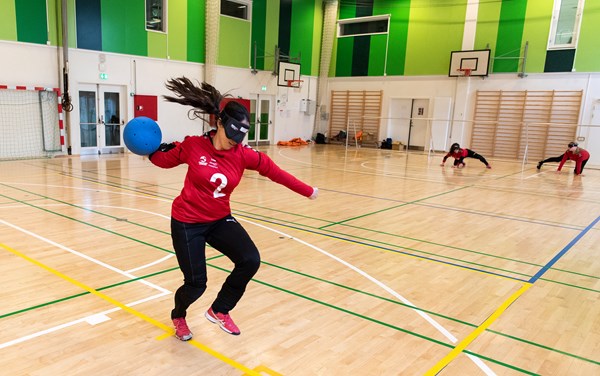 Goalball er en relativt lille idræt i Danmark, men der er klubber i de fleste af de største byer. Goalball har et aktivt miljø for børn og unge og er tilknyttet Parasport Danmarks børne- og ungesatsning Unge Atleter i Front.

Stævner
Goalball kan spilles af alle med et synshandicap, og den nationale turnering har både ungdoms- og seniorrækker. Der spilles nationalt på mixhold, og internationalt på kvinde- og herrehold. Danmark har et kvinde- og et herrelandshold, der deltager i internationale mesterskaber og konkurrencer.
KONTAKT
Idrætsudvalget ved Susanne Have
Mail: susannehave1@gmail.com
Tlf: 22 66 13 14 
Idrætskontakt Jens Winther
Mail: jew@parasport.dk
Tlf: 20 15 44 48
Hvem skal du kontakte?
Idrætsudvalget står for administration og udvikling af idrætterne i Parasport Danmark og er den primære kontakt for medlemsklubber og personer, der har spørgsmål om fx turneringsvirksomhed og landsholdsaktiviteter, som ikke har elitestatus, regler og informationer samt budgetter og landsmøder.
De fleste idrætter uden et idrætsudvalg får udpeget en idrætskoordinator, der i samarbejde med klubber og idrætskontakten varetager idrætsudvalgets funktioner.
Idrætskontakten er idrætsudvalgets primære indgang til Parasport Danmarks organisation og kontakt ift. landsholdsaktiviteter med elitestatus.
label