Kørestolstennis spilles i en særlig sportskørestol på en normal tennisbane og efter samme regler som almindelig tennis – blot må bolden hoppe to gange. Kørestolstennis dyrkes både som single- og doublespil og kan spilles på grus- og kunststofbaner.
Kørestolstennis dyrkes af børn og voksne, og på både motions- og eliteniveau. Kørestolstennis er en relativ lille sport i Danmark, koncentreret i en håndfuld tennisklubber, men kørestolstennisudvalget er klar til at hjælpe nye spillere i gang over hele landet.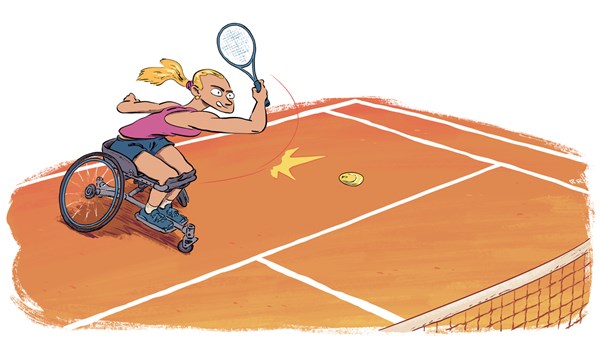 Klassifikation
Der er to klasser i kørestolstennis. Åben-klassen, der er den mest udbredte i Danmark, er for spillere med nedsat funktion i benene, typisk personer med paraplegi (brækket ryg) eller benamputationer. Quad-klassen er for spillere med nedsat funktion både arme og ben, f.eks. personer med tetraplegi (brækket nakke), cerebral parese (spasticitet) eller muskelsvind. Her er det muligt at spille i elektrisk kørestol.

Stævner
Der afholdes danmarksmesterskaber hvert år i både junior- og seniorrækker. De bedste danske spillere deltager løbende i internationale turneringer og er på ATP-ranglisterne, hvor de spiller for at kvalificere sig til de Paralympiske Lege.


KONTAKT
Idrætsudvalget ved Malene Olesen
Mail: maleneolesen@mac.com
Tlf: 27 12 67 45
Idrætskontakt Thomas Pedersen
Mail: tph@parasport.dk
Tlf: 51 59 72 78 
Hvem skal du kontakte?
Idrætsudvalget står for administration og udvikling af idrætterne i Parasport Danmark og er den primære kontakt for medlemsklubber og personer, der har spørgsmål om fx turneringsvirksomhed og landsholdsaktiviteter, som ikke har elitestatus, regler og informationer samt budgetter og landsmøder.
De fleste idrætter uden et idrætsudvalg får udpeget en idrætskoordinator, der i samarbejde med klubber og idrætskontakten varetager idrætsudvalgets funktioner.
Idrætskontakten er idrætsudvalgets primære indgang til Parasport Danmarks organisation og kontakt ift. landsholdsaktiviteter med elitestatus.
label