Underviserkorps
Skal jeres klasse udfordres i kørestolsrugby eller -basket? Eller spille bold i blinde? Vores underviserkorps rykker ud i hele landet og giver jer mulighed for at prøve forskellige parasportsgrene. Vi garanterer, at I kommer på udebane - og at det bliver sjovt!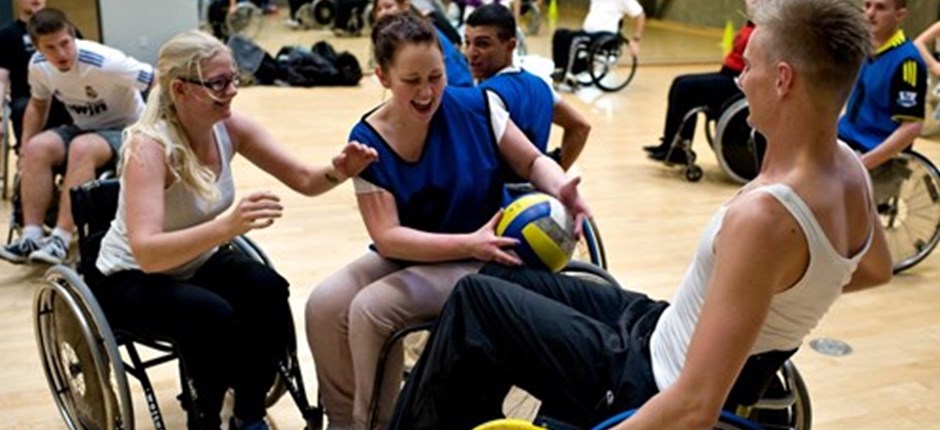 Uanset om man har en elev med et handicap i klassen eller man bare har lyst til at blive klogere på, hvad parasport er, kan det være en øjenåbner at prøve parasport på egen krop. Hvor hurtigt kan man egentlig køre i en sportskørestol, og hvad sker der, når man tackler hinanden? Og hvor modig er man, når man skal forsvare et mål uden at kunne se, og der kommer en tung bold i høj fart susende mod en? 

Parasport er sjovt, og mange af idrætterne kan man sagtens prøve, selv om man ikke har et handicap. Det kan give sjove oplevelser, værdifuld indsigt og anledning til gode snakke om, hvad det betyder at have et handicap. Derfor har Parasport Danmark et undervisningstilbud i parasport målrettet skoler og uddannelsesinstitutioner. Underviserne er tidligere eller nuværende idrætsudøvere med et handicap, som både fortæller en personlig historie om, hvordan parasporten kan løfte det enkelte menneske, og underviser i forskellige typer af parasport.

I vores folder kan I læse mere om, hvad I skal gøre, hvis I gerne vil have besøg af vores undervisere på jeres skole.