Politisk struktur
Politisk er Parasport Danmark organiseret i en række udvalg, der vælges af repræsentantskabet eller udpeges af bestyrelsen.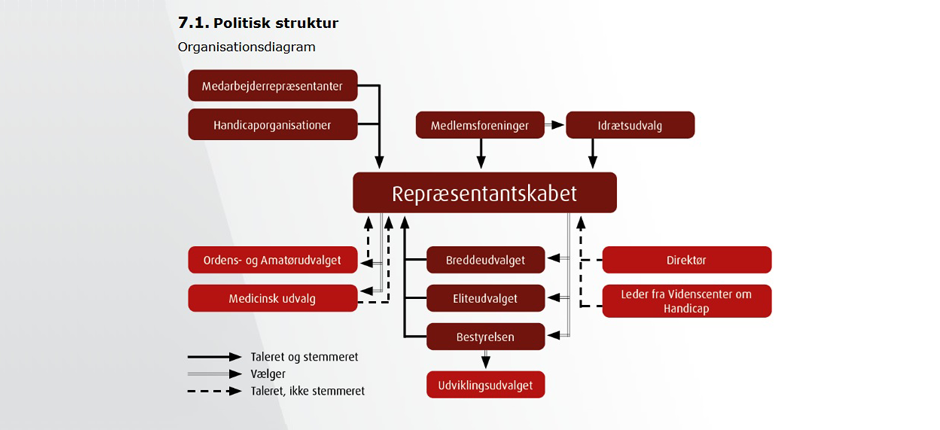 Parasport Danmarks repræsentantskab er forbundets øverste myndighed og udgøres af to repræsentanter fra hver medlemsforening, en repræsentant fra hvert idrætsudvalg, en repræsentant fra de handicaporganisationer, som er medlem, tre medarbejderrepræsentanter samt medlemmer af bestyrelsen, breddeudvalg og eliteudvalg.
Der afholdes repræsentantskabsmøde hvert andet år, hvor beretninger, regnskaber og handlingsplaner drøftes og/eller godkendes. Desuden vælges bestyrelse, breddeudvalg, eliteudvalg og ordens- og amatørudvalg.
Mellem repræsentantskabsmøderne er bestyrelsen forbundets øverste myndighed, mens bredde- og eliteudvalg varetager forhold omkring henholdsvis bredde- og eliteidræt. Ordens- og amatørudvalget er forbundets højeste domstol og træder sammen, når der er interne konflikter, som ikke kan håndteres på anden vis.
Bestyrelsen udpeger fast to udvalg:
Udviklingsudvalg, hvor formanden dog vælges af repræsentantskabet og tillige er medlem af bestyrelsen.
Til at fremme Parasport Danmarks bidrag til udvikling af sport for personer med handicap i udviklingslande har Parasport Danmark desuden nedsat et ulandsudvalg.
Ud over denne overordnede politiske struktur er der en underliggende struktur for forbundets idrætter. Denne struktur er underlagt regulativ for idrætter.