300 jyske og fynske specialskoleelever tørnede sammen i Silkeborg
Ondag den 29. september blev Special Olympics Skolefodboldturnering 2021 afviklet på Søholt Idrætsanlæg i Silkeborg. Op mod 300 elever med udviklingshandicap og andre særlige behov fra Fyn og Jylland var med og nød igen at kunne samles om idræt.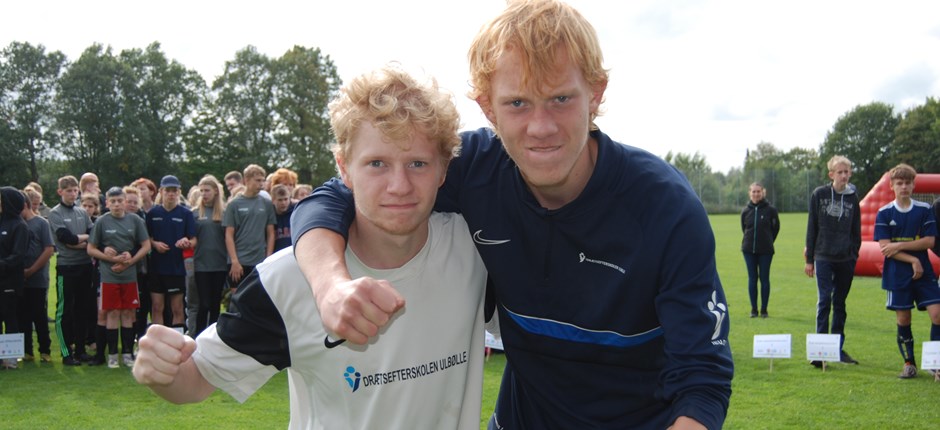 Glæden ved igen at kunne komme ud og mødes med andre om idræt var stor, da de 28 fodboldhold fra 20 forskellige jyske og fynske skoler slog sig løs på banerne ved Søholt Idrætsanlæg. 
Dagen blev sat i gang med velkomsttaler fra formand for kultur og fritidsudvalget i Silkeborg Kommune, Johan Brødsgaard, formand for DBU Jylland og bestyrelsesmedlem i DIF, Bent Clausen, samt breddechef i Parasport Danmark, Søren Jul Kristensen. Derudover lagde også to af Silkeborg IF's superligaspillere, Andreas Oggesen og Oscar Hedvall, vejen forbi for at skrive autografer og dele præmier ud.
For de mange deltagere skal skolefodboldstævnet først og fremmest være en god fælles oplevelse og forhåbentlig give dem lidt sved på panden. Og netop for denne målgruppe er både samarbejdet og sammenholdet særligt vigtigt.
– Det har været superfedt at være med i dag. Det har været med til at styrke det sammenhold, vi har på holdet. Der har også været udfordringer undervejs, fordi vi også har fået modstand, men så fik vi snakket rigtig godt sammen på banen og løst det, fortalte 18-årige Hans Peter Hvidberg Christensen og 16-årige Rasmus Verner Larsen fra Idrætsefterskolen Ulbølle.

De to spiller begge klubfodbold i fritiden og går på idrætsefterskole, så de er ikke i tvivl om, hvad der havde været det allerbedste:
– Det sjoveste i dag har helt klart været at spille en masse fodboldkampe. Det giver en masse energi og gejst at spille fodbold og en masse gode oplevelser og motion.
Give mod på foreningsidræt
Idrætsefterskolen Ulbølle har været med i Special Olympics Skolefodboldtunering i mere end ti år, og for lærer Claus Diekhöner giver det meget for eleverne at være med:
– En del af vores elever er jo ikke er vant til at dyrke foreningsidræt, og så er der jo noget særligt over at komme af sted på ture og sidde sammen i bussen og hygge sig. Og så er vores elever jo efterskoleelever, så de kender også nogle af de andre skoler og lærere.
Også TV2 Østjylland var på besøg på Søholt Idrætsanlæg – se deres indslag fra dagen ved at klikke her. 
Ved stævnet i Silkeborg blev der spillet i tre B-rækker og fire C-rækker. De endelige stillinger i rækkerne kan findes ved at klikke her.
Om Special Olympics Skolefodboldturneringen
Special Olympics Skolefodboldturneringen i Silkeborg blev afviklet i et samarbejde mellem DBU Jylland, Silkeborg Efterskole og Parasport Danmark. I alt deltog 28 fodboldhold fra 20 forskellige skoler på banerne ved Søholt Idrætsanlæg, altså omkring 300 børn og unge i alderen 13-18 år med eksempelvis ADHD, autisme eller andre udviklingshandicap.
Onsdag den 22. september blev en tilsvarende turnering afviklet i Brøndby for specialskolehold øst for Storebælt – læs mere om den her: Specialskolebørn dystede i skolefodbold - parasport.dk
Det er tyvende gang, at Special Olympics Skolefodboldturneringen afvikles.