Klassifikation i paradressur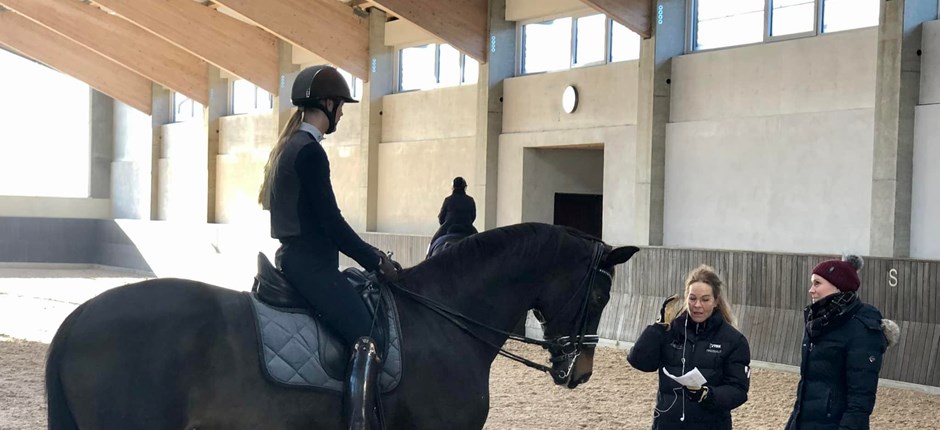 For at blive klassificeret som pararytter skal du have et fysisk handicap, som giver en tydelig og målbar funktionsnedsættelse. Du skal have en specifik diagnose fra et hospital og/eller en speciallæge. Din egen læge skal underskrive et diagnosepapir, som kan downloades her.
Følgende kriterier skal være opfyldt for at kunne blive klassificeret:
Du skal være fyldt 14 år.

Din rideklub skal være medlem af Parasport Danmark.
Her kan du se, om rideklubben er medlem: Klubsøgning - parasport.dk
Du skal til klassifikationen medbringe videomateriale indeholdende følgende sekvenser: Skridt ca. 10 sek. til begge sider lige ud eller på buet spor, trav - en langside og evt. en 20 m volte til begge side i enten letridning eller nedsidning, evt. galop - en langside og evt. en 20 m volte til begge sider. Noget af videoen skal være filmet, hvor du rider med siden til, så klassifikatørerne kan se dig i profil. Videoen må gerne være filmet med fx en mobiltelefon.
Mød op til klassifikationen med løstsiddende tøj eller træningstøj, som du kan bevæge dig i.
Du skal ikke have din hest til klassifikationen.


Klassifikation koster første gang kr. 800,- og kr. 600,- for de næste klassifikationer.
Tilmelding til klassifikation

1. Send en mail til Lykke Guldbrandt om, hvilken dato du ønsker at blive klassificeret. Se kontaktoplysninger længere nede.
2. Upload din diagnoseformular og eventuelle relevante journaluddrag eller undersøgelser her.
3. Betal for klassifikationen – du kommer til et betalingsmodul, når du uploader din diagnoseformular.
4. Tilmeldingen er først gældende, når din diagnoseformular er godkendt af Parasport Danmark. Du modtager en bekræftelse på dette.
Ved spørgsmål til klassifikation rettes henvendelse til:
Idrætskonsulent Lykke Guldbrandt
E-mail: lgu@parasport.dk
Mobil: 29 10 31 30
eller

formand for Pararideudvalget Nina Faxe
E-mail: nigfa@halsnaes.dk
Mobil: 24 61 61 44

Følgende klassifikationsdatoer er fastlagt i 2022:
Vallensbæk Rideakademi, Vejlegårdsvej 123-125, 2625 Vallensbæk
17. september kl. 10-16
18. september kl. 10-16
OPDATERET 16. AUGUAT 2022: DER ER DESVÆRRE IKKE FLERE LEDIGE PLADSER! 
Du skal være opmærksom på, at der ikke kan testes for smerter. Der kan også være diagnoser, der jf. FEI ikke kan testes for. Eksempelvis er fibromyalgi, immobilitets syndrom og Ehlers Danlos og lungesygdomme ikke testbare lidelser og opfylder derfor ikke mindstehandicappet for pararidning.