Danmark henter sølv ved EM i kørestolsrugby
Storbritannien snuppede guldet for tredje mesterskab i træk med en sejr på 55-45 i finalen. Dermed blev der sat punktum for et EM, der har set DGI Huset i Vejle fyldt til bristepunktet fem dage i træk.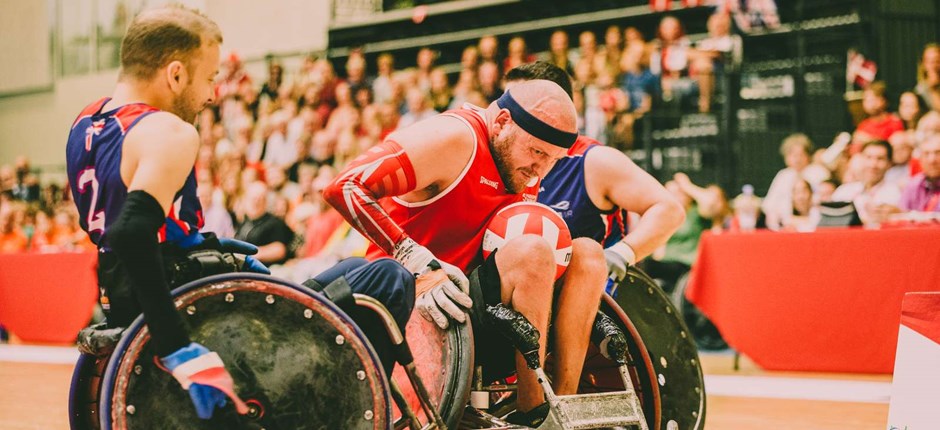 De danske spillere var helt med efter de første to perioder af EM-finalen, men efter pausen trak briterne stille og roligt fra de trætte danskere. Andenpladsen tangerer det bedste danske resultat til dato og betyder samtidig, at holdet er kvalificeret til de Paralympiske Lege i Tokyo 2020. Derfor var det med blandede følelser, at de danske spillere fik hængt sølvmedaljerne om halsen af Parasport Danmarks formand John Petersson.
- Det var en svær kamp. Vi viser, at vi godt kan følge med dem, og vi ville gerne have holdt den tættere til sidst. Så det er jeg ærgerlig over lige nu, men det var pissefedt at spille derinde, og jeg er ked af, at vi ikke at kunne belønne de mange mennesker, der var mødt op, siger Kristian Bak Eriksen.
Der har været fuldt hus til samtlige danske kampe ved EM i kørestolsrugby, og alle billetter til finalen var revet væk halvanden time før kampstart.
- Det er svært at få armene ned oven på denne uge, og det ændrer sølvmedaljen bestemt ikke på. Det danske landshold har ydet en formidabel indsats, og det bliver enormt spændende at følge holdet frem mod de Paralympiske Lege i Tokyo. Samtidig er det utroligt positivt for hele parasporten, at der har været så overvældende interesse for EM i kørestolsrugby, siger Michael Møllgaard Nielsen, der er sportschef i Parasport Danmark.
Tilfredse eventpartnere
EM i kørestolsrugby har været den foreløbige kulmination på et år, hvor Vejle Kommune har haft massivt fokus på parasporten. Under EM har der hængt bannere og flag i gågaden og plakater langs indfaldsvejene til byen.
- Jeg er stolt over et succesfuldt EM her i Vejle, i Parasportens Hovedstad, hvor alting er gået op i en højere enhed. Det, der i høj grad glæder mig, er, at vejlenserne har taget parasporten til sig, og at vores arbejde med at skabe synlighed igennem Parasportens År har båret frugt. Det har simpelthen været en fornøjelse at se en fyldt arena til alle Danmarks kampe, lyder det fra borgmester Jens Ejner Christensen.
Succesen har også gjort stort indtryk på Lars Lundov, direktør i Sport Event Denmark.
- Det har været et stemningsfyldt EM i kørestolsrugby med flotte kampe og stor tilskueropbakning både i hallen og online. Det er fjerde gang, Danmark er vært for et mesterskab i kørestolsrugby, og det har været en uforglemmelig oplevelse med en dansk plads i EM-finalen og kvalifikation til de Paralympiske Lege, siger han.
EM-bronzemedaljen gik til Frankrig, der slog Sverige 45-43 efter forlænget spilletid.

Fakta: EM i kørestolsrugby 2019
EM i kørestolsrugby 2019 finder sted fra den 7.-11. august i DGI Huset i Vejle. Parasport Danmark og den internationale organisation for kørestolsrugby, IWRF, står bag arrangementet i samarbejde med Vejle Kommune, Sport Event Denmark og Parasport Danmarks hovedsponsorer: JYSK, Pressalit og Elsass Fonden.