Wild Rabbits Basket skal have cheerleaders i Svendborg Basketball Club
Ti klubber er i fuld gang med at dyste om titlen som Danmarksmester i rekruttering af børn og unge med handicap. Én af klubberne er Svendborg Basketball Club, som har fået cheerleading på programmet med holdet Wild Rabbits Danceteam.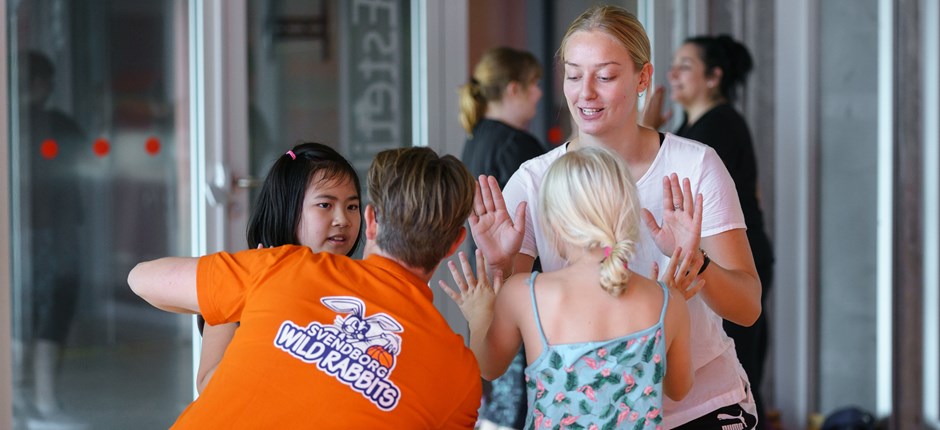 Udgivet 22-10-2019 (Opdateret 12-11-2019)
Svendborg Basketball Club er en traditionsrig klub med hold i alle aldersgrupper og niveauer, og ved besøg i Svendborg Idrætscenter, hvor de holder til, mærker man også, at det er en klub med plads til alle. Sidste sæson tilbød de for første gang Wild Rabbits, som er et basketballhold for børn med særlige behov.
- Wild Rabbits har været en kæmpe succes, og vi oplevede derefter, at der var stor efterspørgsel på et hold for børn, som ikke synes så meget om boldspil. Og i basketball er det jo oplagt at have cheerleaders. Det blev grundlaget for danseholdet, fortalte Karin Olsen, som er formand i Svendborg Basketball Club.
Wild Rabbits er opstartet i samarbejde med Byhaveskolen, som er en kommunal folkeskole for børn med særlige behov, og for Rasmus Klein-Døssing, som er konsulent på skolen, er samarbejdet mellem forening og skole gunstigt.
- Byhaveskolen og Svendborg Basketball Club har samarbejdet i etableringen af fritidstilbuddet. Derved har der været en direkte linje mellem foreningen, der skal drive tilbuddet og en skole, der arbejder med målgruppen i hverdagen. Samarbejdet efter etableringen af tilbuddet består af rekruttering af medlemmer samt videndeling i forhold til optimering og udvikling af tilbuddet, fortæller Rasmus.
Det nye dansehold træner på samme tid og samme sted som Wild Rabbits Basketball, og selvom det er to meget forskellige idrætsgrene, får de alligevel et stort fællesskab. Omkring samarbejdet på tværs af danse- og basketholdet fortæller Rasmus:
- Grunden til at basket- og danseholdet skal træne sammen er, at vi prioriterer fællesskab rigtig højt. Vi vil gerne have, at de deltagende børn oplever en stor grad af fællesskab, fordi vi tror på, at oplevelser er bedre, når der er nogen at dele dem med.
Det er en vigtig del af visionen med holdene at børnene ikke kun får et fællesskab sammen, men også bliver en lige så stor en del af foreningslivet, som medlemmerne på de almene hold. Det er ifølge Rasmus tydeligt at mærke på børnene, at denne målsætning allerede er opnået.
- Det er tydeligt, at mange af børnene spejler sig i andre medlemmer og samtidig har et fællesskab med selv de professionelle. At se hvordan børnene er på fornavn med ligaspillerne, og at ligaspillerne også kan huske deres navne, det bekræfter, at de får et særligt fællesskab, hvilket lader til at være meget betydningsfuldt for medlemmerne af Wild Rabbits.
Der er gang i Svendborg Idrætscenter, når Wild Rabbits Basketteam og Danceteam hver mandag giver den fuld gas. Du kan flere informationer om klubben www.sbbc.dk og om Svendborg Wild Rabbits på deres egen facebookside www.facebook.dk/svendborgwildrabbits.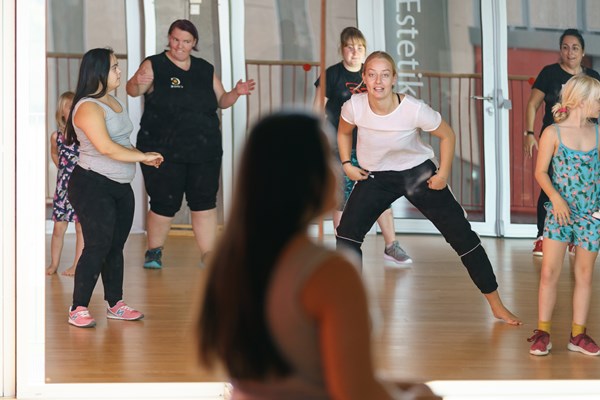 label