Wagner i Vild med dans
Længdespringer Daniel Wagner er netop præsenteret som en af de ti ny-dansere, der er med i årets Vild med dans.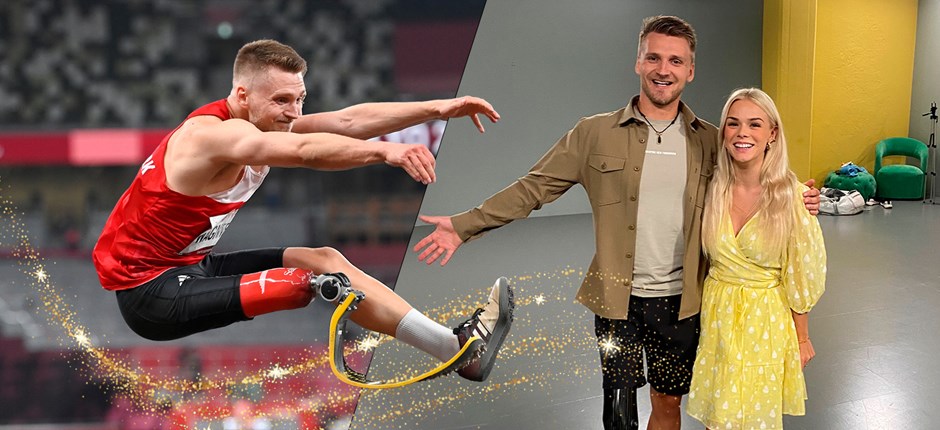 Om få uger bytter den 29-årige para-atlet atletikbanen ud med dansegulvet, når han gør sin entre på de bonede gulve. Sammen med dansepartner Asta Bjørk, der sidste år vandt den populære dansekonkurrence, kaster Wagner sig ud i Rumba og Cha Cha Cha. En uvant disciplin for verdensmesteren, der glæder sig til udfordringen
- Jeg er en sportsmand, der gerne tager en udfordringen op, så jeg glæder mig bare helt vildt til liveshows og til at danse foran hele Danmark. Det er jo et underholdningsprogram, og underholdning skal jeg nok komme med, fortæller Wagner og fortsætter
- Jeg ved, at jeg kan have nogle udfordringer i forhold til de andre deltagere. Det kan for eksempel være svært at gå op på hæl og tå, når man kun har én fod, siger nydanseren og griner.
Daniel Wagner er den første para-atlet og person med handicap, der er med i den danske udgave af Vild med dans. Og den titel er han glad for at have på sig.
- Jeg er virkelig glad og stolt over, at jeg kan være med til at sætte fokus på parasporten og mennesker med handicap. Forhåbentlig kan jeg være med til at inspirere andre til at kaste sig ud i ting, de ikke har prøvet før, og give dem troen på, at intet er umuligt.
Daniel Wagner fik amputeret sit ben over knæet efter en ulykke i forbindelse med et trampolinspring, da han var 14 år gammel. Til daglig bruger han en særlig benprotese, men når man skal danse, stilles der nye krav til benarbejdet.
- Det har overrasket mig, hvor meget man bevæger sig baglæns, når man danser. Det er en bevægelse, der er svær med protese. Jeg har i samarbejde med Sahva udviklet forskellige proteser til de forskellige danse, og vi kommer løbende til at justere, så det giver mest mulig bevægelighed og bounce, fortæller Wagner fra bilen på vej til dansetræning.
De andre par i Vild med dans er:
Cecilie Schmeichel og Damian Czarnecki
Nicholas Kawamura og Karina Frimodt
Natasha Brock og Thomas Evers Poulsen
Jakob Åkerlind og Camilla Dalsgaard
Andrea Lykke og Eugen Miu
Joel Hyrland og Jenna Bagge
Heidi Frederikke Sigdal og Michael Olesen
Caspar Phillipson og Malene Østergaard
Katerina Pitzner og Morten Kjeldgaard
Du kan se Daniel Wagner og Asta Bjørk i den nye sæson af 'Vild med dans' fredag 9. september klokken 20 på TV 2 og TV 2 PLAY.