To unge parasvømmere gjorde en god figur til Danish Open
Landsholdssvømmerne Camilla Bitz Witt og Alexander Hillhouse repræsenterede parasvømning på bedste vis, da de tilsammen diskede op med tre danske rekorder, en DM-kravtid og seks personlige rekorder ved 2. del af Danish Open 2021.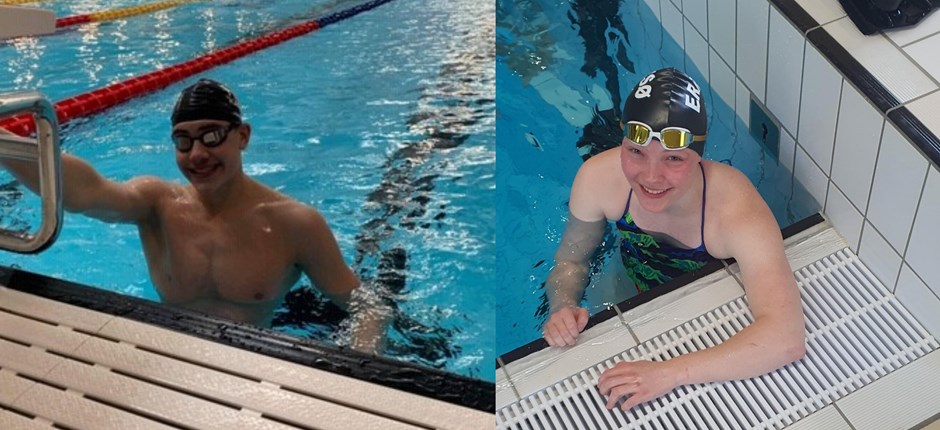 Danmarks svømmeelite var fra den 22. til 25. april samlet i Taastrup Svømmehal til Danish Open, og med i feltet var to stævnesultne, unge parasvømmere, der hoppede i vandet efter lang tids stævnepause. For både Camilla Bitz Witt og Alexander Hillhouse var stævnet derfor en rigtig god test af deres træning og samtidig en gylden mulighed for at sætte fokus på parasvømning.
- At vores svømmere kan deltage ved Danish Open gavner dem både socialt og sportsligt. Det gør det nemmere for deres klubtrænere at inkludere dem på eliteholdet, når de har mulighed for at deltage ved de samme stævner, siger Anne-Dorte Andersen, der er idrætskonsulent i Parasport Danmark.
Camilla Bitz Witt (S9) deltog i 50fri, 100fri og 200fri, og her blev det til to personlige rekorder. Træner Martin Bjerg Sørensen fra EGIF Erritsø svømmeklub var meget tilfreds: 
- For mig som træner var det fantastisk at kunne have Camilla med til Danish Open sammen med de andre elitesvømmere fra klubben. Det, at hendes sidste fire måneders træning kunne have en topning og et mål, har gjort at coronanedlukningen har været lettere at komme igennem. Selve stævnet var en succes for Camilla, hvor hun fik de sidste fire måneders træning til at gå op i en højere enhed, og det var en fed mulighed for hende til at være med sammen med sine holdkammerater til et stort stævne. At hun så også gav den gas og satte nogle gode tider er en kæmpe ekstra bonus. 
For Alexander Hillhouse (S14) fra KVIK Kastrup blev Danish Open et sportsligt gennembrud. Han deltog i 50fri, 100fri, 100fly og 100ryg, og det blev til tre Danmarksrekorder og fire personlige rekorder. I 100fly og 100ryg slog han den paralympiske svømmer Ole Pedersens Danmarksrekorder fra henholdsvis 2002 og 2000. Tiderne svømmer ham ind på verdensranglisten for 2021 på en placering mellem 11 og 16. 
Alexander Hillhouse siger:
- Det var en fed oplevelse at komme ud og konkurrere mod de andre. Udover dette var det fedt at se at alt den hårde træning bære frugt, og at det blev afsluttet med tre danske rekorder og fire personlige rekorder. 
Begge unge svømmere er i år blevet indlemmet i den danske landsholdstrup, og de ser frem til senere på året at repræsentere Danmark ved et internationalt stævne i parasvømning for første gang som landsholdssvømmere.
Resultater fra Danish Open
Camilla Bitz Witt
100 fri: 01:16.29 ny PB (personlig bedste)
50 fri: 33.58 ny PB
200fri: 02:46,51
Alexander Hillhouse
100fly: 1:00.85 ny PB og Dansk Rekord
50fri: 26.32 ny PB
100fri: 00:57.28 ny PB og Dansk Rekord (slog Jonas Bastian Sørensen rekord fra 2014)
100ryg: 1:06.07 ny PB og Dansk Rekord