To danske skytter jagter PL-kvoteplads i Lima
World Shooting Para Sport World Cup i Peru, er formentlig sidste udkald, hvis Danmark skal opnå en kvoteplads i skydning til de Paralympiske Lege i Tokyo.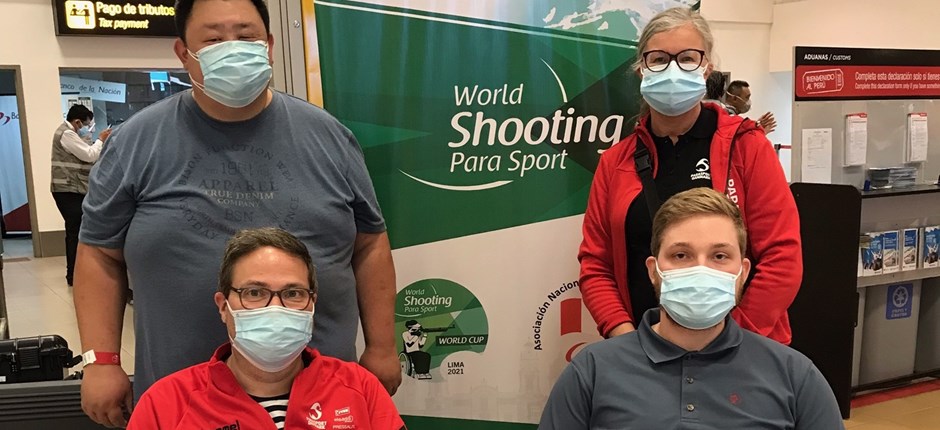 Jens Frimann, Nykøbing Falster Skytteforening, og Kasper Lousdal, Boddum-Udby Skytteforening, er de to danske skytter, der får chancen i Lima. Begge skyder i handicapklasse SH1, og det betyder også, at de deltager i de samme discipliner.
Mest erfaren er Jens Frimann, der har deltaget i internationale skydekonkurrencer igennem flere år. Han er en allround-skytte, der både kan skyde liggende og stående på 10m luftriffel. Hofdisciplinen er helmatch, hvor man skyder 40 skud i hver af de tre positioner liggende, knælende og stående. I denne disciplin forventer landstræneren en finaleplads til Jens Frimann, altså en placering blandt de otte bedste skytter.
Kasper Lousdal er derimod ny og deltager i sit første World Cup-stævne, men det gør ham ikke til en dark horse. Hans resultater i træningen og de få nationale konkurrencer, der har været, tyder på, at det er ham, der har de største muligheder for at skyde en billet til Tokyo hjem.
- Det er Kasper, vi har de største forventninger til. Kasper har altid været glad for at skyde på de lange distancer, den længste distance er 50 m i det paralympiske program. Det er her i den liggende position, at han har vist sin styrke, siger landstræner Jonas Jacobsson.
Skytterne ledsages i Peru af landsholdschef Jens Møllenberg og Lykke Guldbrandt, der er klassifikationsansvarlig i Parasport Danmark. Da Parasport Danmark er uenige i Kasper Lousdals nuværende klassifikation, skal han før stævnet klassificeres igen.
- Klassifikationen har stor betydning for Kasper Lousdals mulighed for at deltage i de stående discipliner, og derfor har vi taget vores egen ekspert på området med herud. Det er vigtigt, at Kasper bliver klassificeret rigtigt, da vil give os muligheden for at kunne stille hold på fire discipliner, hvor vi nu kun har mulighed for at stille hold på to. Samtidig vil det understøtte vores målsætning om at opnå flere finalepladser, medaljer og kvotepladser til kommende Paralympiske Lege, siger Jens Møllenberg.
Landsholdschefen ser optimistisk på de danske chancer i Peru.
- Vi er meget optimistiske, og forventningerne er høje i forhold til vores mulighed for at kunne hente en kvoteplads, men vi er samtidig oppe i mod en række meget kompetente konkurrenter. Vi har lagt en plan, og den følger vi, siger han.
Danskernes program
Søndag den 13. juni, kl. 16.00 dansk tid, skyder både Kasper og Jens helmatch. Finalen begynder kl. 21.30
Mandag den 14. juni, kl. 16.00, skyder de 10m stående. Finalen begynder kl. 19.30
Torsdag den 17. juni, kl. 16.15 eller kl. 18.00, skyder de 10m liggende. Finalen begynder kl. 20.00
Fredag den 18. juni, kl. 16.35 eller kl. 18.15, skyder de 50m liggende. Finalen begynder kl. 20.15
Følg de danske skytter på Facebook her.
World Shooting Para Sport World Cup i Peru livestreames her.