Ti danske ekvipager klar til NM i paradressur på hjemmebane
De Nordisk-Baltiske mesterskaber på Vilhelmsborg får stor betydning for de bedste hjemlige ryttere, der kæmper om pladserne på holdet, der senere på sommeren skal repræsentere Danmark ved EM i Rotterdam.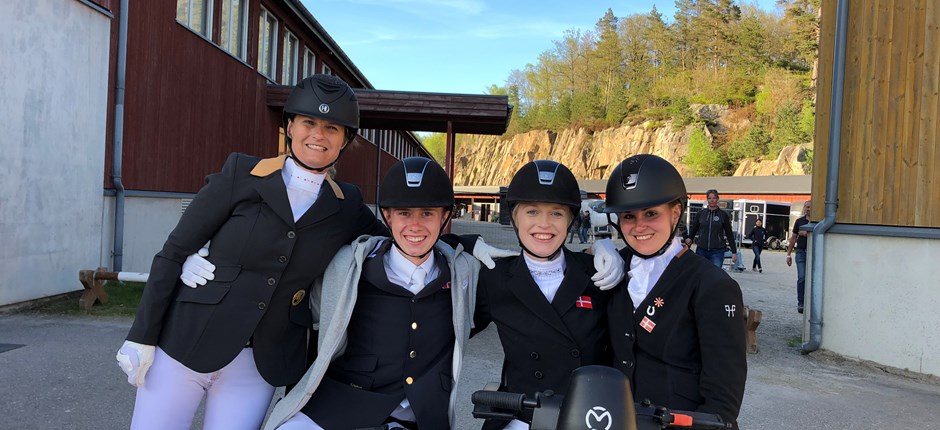 Danmark er repræsenteret i alle fem grader, når der fra onsdag den 26. til søndag den 30. juni er NM på Vilhelmsborg ved Aarhus. Stævnet er paradressurrytternes sidste mulighed for at ride de kvalifikationskrav, landstræner Astrid Gemal har sat for udtagelsen til EM 2019, og derfor er det et stærkt og ambitiøst dansk hold, der er klar til at vise sig frem.
- Vi ser meget frem til stævnet og er utrolig glade for at have ryttere med i samtlige grader. Målet er at forsvare vores nordiske hold guld fra sidste år, siger holdleder Anette Bruun Jensen.
Bruttoholdet
Grad l: Line Munk Madsen på Korsgårds Toledo
Grad ll: Katrine Kristensen på Well Done Dallas
Grad lll: Tobias Thorning Jørgensen på Jolene og Caroline Cecilie Nielsen på Davidoff
Grad IV: Susanne Jensby Sunesen på Leeds
Grad V: Camilla Christensen på Orebjas Sly, Renee Igelski på Beyond Dreams og Line Thorning Jørgensen på Don Allivan
De fire ekvipager, som skal repræsentere Danmark i holdkonkurrencen, er Katrine Kristensen, Caroline Cecilie Nielsen, Camilla Christensen og Line Thorning Jørgensen.
Derudover får to ryttere fra B-holdet mulighed for start til NM. Det er Malene Høj Sommerlund med Grandalsgårds Moondancer i Grad lll og Anne Mette Hasselstrøm på Max i Grad IV.