Sverige vandt landskampen om Konventum Cup
Weekendens golfopgør mellem Danmark og Sverige endte med svensk sejr på Helsingør Golf Clubs bane.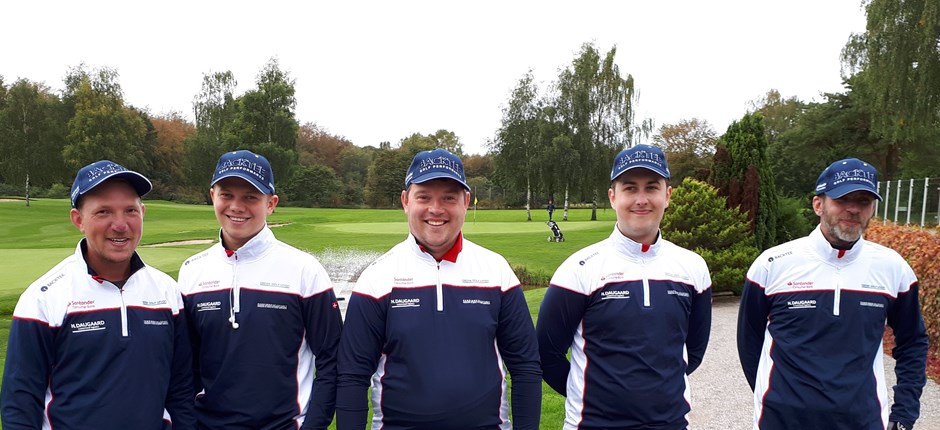 Det lykkedes ikke danskerne at få revanche, da Danmark og Sverige for anden gang mødtes i en landskamp for spillere med forskellige former for udviklingshandicap. Alle fem svenske spillere holdt et utrolig højt niveau, og der blev i weekenden spillet virkelig seværdig golf på Helsingør Golf Clubs bane.
Ikke mindst Sveriges ene kvindelige spillere - Matilda Jonsson på kun 15 år- imponerede. På trods af sin autisme diagnose så rangerer hun som nr. 1 Sverige blandt alle golfspillende piger under 16 år og hun forventer at blive professionel indenfor et års tid - og at dømme ud fra hendes spil i weekenden, så virker det som en god beslutning.
Holdkaptajn for Danmark, Jesper Hviid, udtaler:
- Resultatmæssigt havde vi generelt meget svært ved at hamle om med svenskerne, og det vidste vi godt på forhånd. Der blev spillet i alt 25 singlematcher på de to dage, og efter de første 20 matcher måtte vi erkende, at landskampen reelt var slut. Trods flere spændende matcher, som blev afgjort på sidste hul, så førte svenskerne på det tidspunkt med 14 sejre mod 6 danske.
Individuelt var det Troels Højbjerre fra Helsingør GC og Casper Holst-Christensen fra Hillerød GK som med to sejre hver klarede sig bedst på det danske hold. Tom Petersen fra HGC og Jonas Lolk fra Mølleåen GK vandt en enkelt match hver, mens Morten Ridder Johansen fra Søllerød GK kæmpede forbilledligt - men forgæves - mod den svenske overmagt. 
Jesper Hviid konkluderer:
- For at have en chance mod Sverige og andre af de store golf nationer i fremtidige opgør, skal vi bruge nogle ressourcer på at finde flere unge spillere med singlehandicap. Efter at spillere med diagnoser indenfor autismespektret er blevet godkendt i international paragolf er vores rekrutteringsgrundlag blevet væsentligt større, og jeg er overbevist om, at vi har talentfulde unge spillere ude i klubberne. Jeg håber blot, at trænerne rundt omkring i landet er opmærksomme på det, og at de vil hjælpe os med at lokalisere dem. Debutanten Jonas Lolk fra Mølleåen GK er et godt eksempel på en spillertype, som vi meget gerne vil have "fingrene i".
Weekendens landskamp var arrangeret af Helsingør Golf Club og Dansk Golf Union i fællesskab med økonomisk støtte fra Konventum og Laxholm Furniture. Det blev i
weekenden også aftalt, at Sveriges Golf Förbund påtager sig arrangementet til næste år, så det kan blive en årligt tilbagevendende event.
label