RaceRunning på programmet ved VM i para-atletik 2019
Den danskopfundne atletikdisciplin RaceRunning var for første gang med på konkurrenceprogrammet ved EM i para-atletik i Berlin i 2018. Nu er disciplinen også kommet på programmet ved VM i 2019 i Dubai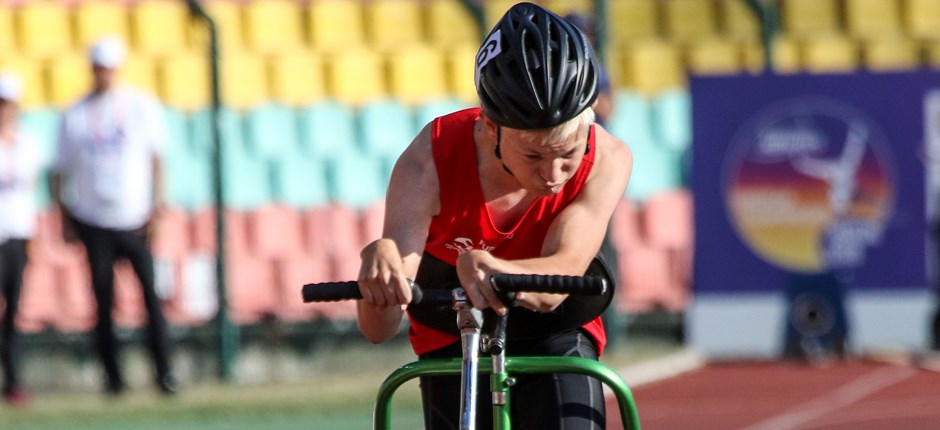 RaceRunning blev introduceret for mere end 25 år siden i Danmark for atleter med svære handicap. Løberne bruger en trehjulet ramme som støtte, der kompenserer for selv svære balanceproblemer.
RaceRunning blev anerkendt som en disciplin under den Internationale Paralympiske Komité (IPC) i 2018 for at øge deltagelsesmulighederne for atleter med svære handicap. Disciplinen var for første gang på programmet ved et internationalt IPC-stævne i august 2018 ved EM i para-atletik i Berlin, hvor mandlige og kvindelige atleter kunne konkurrere på 100 meter-distancen i klaaserne RR1 og RR2/3.
I alt opnåede 35 atleter fra ni forskellige nationale paralympiske komitéer atletlicenser.
En sport i udvilkling
RaceRunning er stadig en disciplin under udvikling af CPISRA, Cerebal Palsy International Sports and Recreation Association, og overgangsperioden for udviklingen af et evidensbaseret klassifikationssystem vil blive forlænget med yderligere et år.
Der vil blive tilbudt klassifikation i RaceRunning til to af World Para Athletics' (IPC) Grand Prix-stævner i 2019 frem mod VM. Klassifikationen udføres af CPISRA-certificerede internationale klassifikatører i henhold til CPISRA's klassifikationsregler. Klassifikationerne finder sted den 21.-23. februar i Dubai og den 23.-24. april i São Paulo.
label