Peter Rosenmeier tager VM-bronze
Titelforsvaret glippede for bordtennisikonet Peter Rosenmeier, der må tage til takke med en bronzemedalje ved VM i Granada efter et nederlag i semifinalen til Rungroj Thainiyom.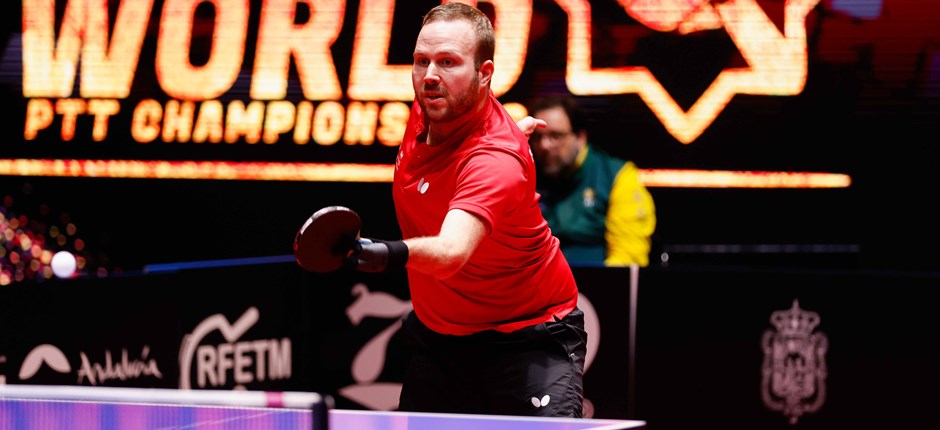 Med flot spil og overbevisende sejre i ottendedelsfinalen og kvartfinalen ved VM i parabordtennis, var verdensetter Peter Rosenmeier (klasse 6) godt på vej mod at levere sin karrieres første titelforsvar. Inden danskerens semifinale var både sidste års PL-guldvinder Ian Seidenfeld, der besejrede Rosenmeier i finalen i Tokyo, og hjemmebanefavoritten Alvaro Valera, der igennem mange år har været Rosenmeiers nærmeste konkurrent i toppen, oven i købet slået ud af turneringen. Men desværre ville Thailands Rungroj Thainiyom det anderledes og spillede en stor kamp i semifinalen, hvor den 38-årige nordjyde til gengæld ikke fik spillet til at fungere. Resultatet blev et klart dansk nederlag på 0-3 i sæt.
- Skuffelsen er brutal lige nu. Jeg kom aldrig i gang. Jeg havde en super god fornemmelse inden kampen, men i dag var han desværre en klasse over mig, siger den detroniserede verdensmester.
Landstræner Christoffer Petersen deler den vurdering.
- Det var en kamp, som aldrig rigtig udviklede sig til det, vi er vant til at se med de to. Thailand spillede godt, og Peter ramte slet ikke sit niveau. Hvorfor det skete, skal vi hjem og have fundet ud af. Men lige nu skal vi også huske at glæde os over to medaljer ved VM, siger han.

Også Thea Amalie Nielsen (klasse 10) er færdig ved VM efter et nederlag til Tyrkiets Merve Demir i ottendedelsfinalen. Sammen med Peter Rosenmeier vandt hun tidligere på ugen sølv i mixed double.