Parasport Danmark samler sine jyske kræfter i Vejle
Fra foråret 2023 får Parasport Danmark en endnu stærkere stemme i Vejle Kommune, der siden 2016 har dedikeret sig til at være Parasportens Hovedstad. Her ser man det som en kæmpe anerkendelse, at Parasport Danmark styrker sin lokale tilstedeværelse.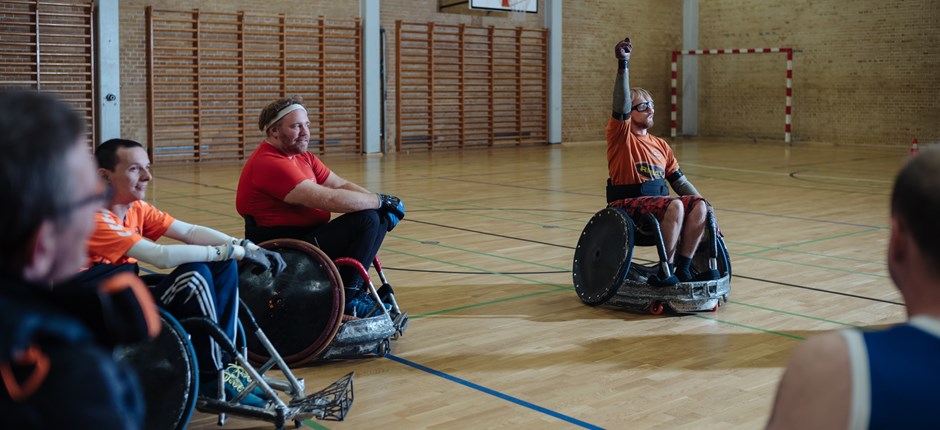 Et stærkt strategisk samarbejde mellem Parasport Danmark og Vejle Kommune er en af årsagerne til, at Parasport Danmark fra foråret 2023 samler sine to jyllandsafdelinger i Vejle.
- Jeg ser enormt meget frem til, at vi samler kræfterne fra vores jyske afdelinger i Vejle, der er et naturligt udgangspunkt for mange aktiviteter og initiativer i parasporten. Vejle Kommune både kan og vil gå forrest, når det handler om at skabe gode rammer for, at mennesker med handicap og særlige behov kan dyrke idræt, siger John Petersson, formand for Parasport Danmark.
Parasportens Hovedstad
Vejle er den første og foreløbig eneste kommune, der har et decideret parasportsråd, som sikrer vedvarende fokus på og økonomisk prioritering af området. Siden 2015 har Vejle Kommune haft det som målsætning at sikre lige adgang til idræt og bevægelse for alle uanset fysiske eller psykiske forudsætninger.
Derfor har Parasport Danmark blandt andet bistået kommunen med at hjælpe en lang række foreninger til at udvikle parasportstilbud og uddanne trænere.
- Vi har allerede kunnet fejre mange sejre på parasportsområdet, og det er ikke mindst på grund af vores gode samarbejde med Parasport Danmark. At forbundet nu udvider deres tilstedeværelse her i Vejle, er for os et bevis på, at vi for alvor er lykkedes som Parasportens Hovedstad, siger Dan Arnløv Jørgensen, formand for Kultur- og Idrætsudvalget i Vejle Kommune.
Fra foreningsudvikling til 'det bedste VM nogensinde'
Parasport Danmark og Vejle Kommune er senest lykkedes med at starte en lokal kørestolsrugbyklub op sammen med det lokale foreningsliv, ligesom Parasport Danmark og Vejle Kommune sammen med Sport Event Denmark i oktober afholdt VM i kørestolsrugby 2022 i Spektrum i Vejle. Mesterskabet blev efterfølgende kaldt det bedste VM nogensinde, og Danmark spillede sig til en flot fjerdeplads foran fyldte tribuner.
- Vi er taknemmelige for, at en kommune som Vejle er med til at sætte spot på parasporten, uanset om vi så taler elite og bredde. For vi ved, at idrætten skaber et helt særligt rum for sociale fællesskaber, ambitioner og gode oplevelser, som bør være tilgængelige for alle, siger John Petersson.
Parasport Danmark har udover sit kontor i Vejle, i dag kontor i Viborg og sekretariat i Idrættens Hus i Brøndby. Alle medarbejdere i Viborg vil fra foråret 2023 få hovedsæde i Vejle, når forbundet samler kræfterne i to centrale enheder.
label