PARADRESSUR I VERDENSKLASSE HOS BLUE HORS
Verdens bedste paradressurryttere fra hele ti nationer er samlet hos Blue Hors ved Randbøldal, når der i weekenden 18.-20. marts holdes internationalt CPEDI3* dressurstævne.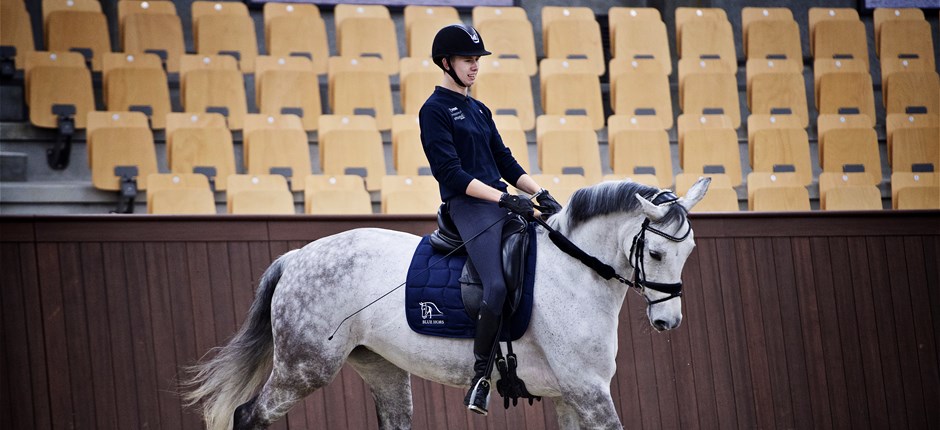 Flotte rammer for både deltagere og publikum
Målet med stævnet er at tilbyde toprammer til de allerbedste paradressurryttere i verden og derfor glæder det folkene bag stævnet, der er skabt af et samarbejde mellem Vejle Kommune, Blue Hors og Parasport Danmark, at dette internationale parasportevent endnu engang er en realitet!
Med Vejle Kommunes store interesse i at fastholde sin position som Parasportens Hovedstad og i at styrke Danmarks position som stor parasportsnation på den internationale arena, glæder det mange, at det internationale paradressurstævne endnu engang løber af stablen i de flotte rammer på Blue Hors.
Stævnet kan endnu engang tilbyde gratis entre i den store, opvarmede opvisningshal, hvor stævnet vil foregå – så derfor er der rig mulighed, for alle interessede, der kunne ønske at opleve disse verdensklasseryttere.
Ryttere fra ti forskellige nationer i den absolutte top
Som en stærk paradressurnation, bliver stævnet på Blue Hors en naturlig forlængelse af det danske paradressurår, der har været en kæmpesucces. De danske ryttere er blandt de stærkeste atleter på den internationale scene, hvor de ved EM, VM og De Paralympiske Lege har vundet individuelle- og holdmedaljer igennem flere år. Den største para-profil inden for paradressuren lige nu, er uden tvivl danske Tobias Thorning Jørgensen, der med hesten Jolene Hill vandt to guldmedaljer for grad III ved De Paralympiske Lege i Tokyo i 2020. Ved stævnet på Blue Hors kommer Tobias til at møde to af sine medaljevindende grad III-konkurrenter fra Tokyo, nemlig verdensranglistens nummer 15, amerikanske Rebecca Hart, der vandt en bronzemedalje for hold, ligesom også bronzevinder og verdensranglistens nummer 26, norske Ann Cathrin Lübbe stiller til start.
I alt kommer der 46 ekvipager med 10 forskellige nationer – hvilket viser, at et internationalt paradressurstævne på dansk jord, er kærkommet for paradressursporten – både blandt ryttere, trænere, sponsorer og officials.
Gratis adgang og mulighed for live-streaming
Der vil være gratis entre hele weekenden på Blue Hors i Randbøl. Har man ikke mulighed for at komme og opleve stævnet fysisk, er det muligt at streame dressurklasserne via ClipMyHorse.TV, der forestår live-streamingen af stævnet. Stævnet er støttet af Vejle Kommune, Elsass, Dressurens Venner, ECCO og Pressalit.