Intense floorballkampe på heden
Selv om coronaen stiller stadig større krav, når mange skal samles, så lykkedes det af afvikle et vellykket Special Olympics-stævne i weekenden, hvor ti hold tog del i Floorball på Heden i Sportscenter Herning.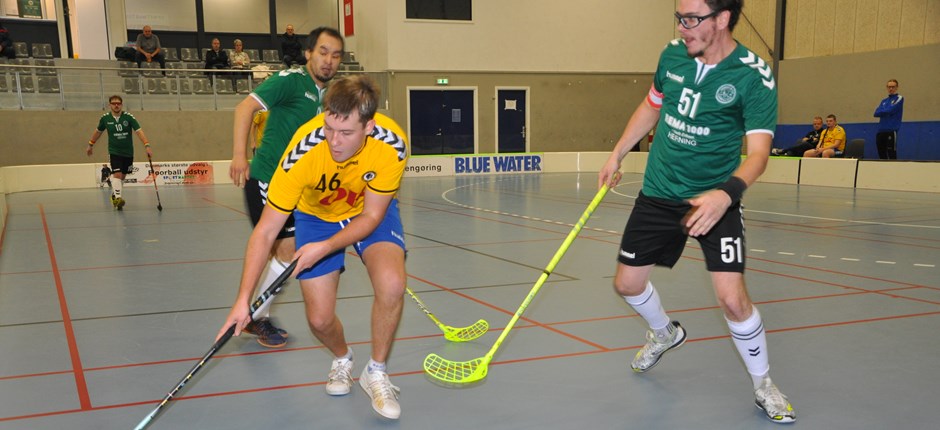 "Pas på hinanden og husk afstand, håndsprit og omtanke."
Sådan lød de sidste instrukser, inden ti hold tørnede sammen i Sportscenter Herning, hvor den lokale floorballklub Herning Pirates var arrangører sammen med arbejdsgruppen Special Olympics Floorball.
De lokale kræfter i Herning Pirates havde organiseret et vellykket stævne, hvor der både var styr på kampprogram, dommerbord, præmier og håndsprit, så spillerne og deres respektive trænere kunne have fuld fokus på floorballkampene i henholdsvis 3 mod 3-rækken og 4 mod 4-rækken.
Som sædvanligt blev der kæmpet ihærdigt, og der var masser af følelser i spil. Alligevel afvikledes kampene på en måde, hvor man "går til stålet", men hvor spillerne samtidigt også evner at passe på hinanden. Det er flot at opleve, og ikke mindst de respektive trænere fortjener stor ros i den forbindelse.
Den afsluttende finalekamp i 4 mod 4-rækken blev en medrivende affære, hvor der lige til det sidste var spænding om resultatet. Da der manglede 1 minut og 20 sekunder af kampen, førte holdet fra Lavuk/Vanløse 3-1 over holdet fra Herning Pirates, så det så ud som om, at kampen var ved at være afgjort. Alligevel kæmpede hjemmeholdet videre, og det lykkedes piraterne at 'stjæle' to scoringer, så kampen skulle afgøres på straffeslag.
Her brillierede de to holds målmænd med den ene redning efter den anden, og først i den 5. runde lykkedes det for en Herning-spiller at score, så hjemmeholdet kunne juble over finalesejren.
Efter medaljeceremoni og præmieoverrækkelse i den individuelle speedshooting-konkurrence, der blev afviklet sideløbende med floorballkampene, kunne holdene sidst på eftermiddagen drage hjemad mod deres hjembyer i henholdsvis Aalborg, Thisted, Haderslev og Vanløse.
Men Herning-spillerne blev hængende i hallen for at hjælpe med nedtagning af bander og den øvrige oprydning. Og mon ikke også der lige skulle jubles endnu engang og deles historier om, hvilke pragtpræstationer der var blevet leveret i løbet af dagens kampe.
Yderligere information
Alle kampresultaterne kan findes på: http://www.parasport-floorball.dk/