Golfens Dag for spastikere
I lørdags blev der afholdt Golfens Dag for spastikere i Hørsholm Golf, der stillede faciliteter til rådighed for Dansk Golf Union og Sports for Brains. Her mødte en flok nysgerrige unge op, og fik en introduktion til paragolfens verden.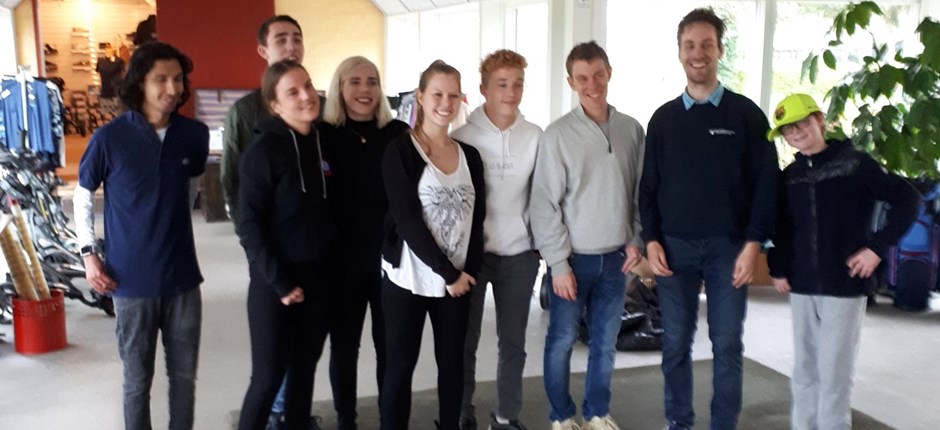 Trods barske vejrudsigter dukkede der en flok forventningsfulde, unge spastikere og forældre op, da Dansk Golf Union, Sports for Brains og Hørsholm Golf afholdte åbent hus i lørdags. Målgruppen var børn og unge med CP (spasticitet), og fælles for dem alle var stor ivrighed og gå-på-mod. DGU´s paragolfkonsulent, Jesper Hviid, var til stede og fortæller følgende:

- Nogen vil nok hævde, at syv unge potentielle golfspillere ikke lyder imponerende, men paragolf er stadig en lille niche inden for golf i Danmark, og den vokser stille og roligt. Arrangementet her i Hørsholm Golf er vores første forsøg på at henvende os til en lille specifik målgruppe, og det er på den baggrund, at vi vurderer det som en succes. Vi vil helt klart overveje at afprøve konceptet andre steder i landet, og vi hører gerne fra klubber som kunne være interesseret i at være værter.
Selve instruktionen stod klubbens pro, Peter Jeppesen, for sammen med to CP-spillere. De syv unge forstod at holde Peter godt beskæftiget i de godt to timer, som arrangementet varede. Efter timerne på range og putting green var alle godt forfrosne, og derfor gjorde den varme kakao ekstra godt som afslutning på en god formiddag. Sports for Brains og DGU sluttede af med at takke Hørsholm Golf for at stille faciliteter og træner til rådighed. Hørsholm Golf gjorde også opmærksom på at de stadig tilbyder at godkendte paragolfspillere kan spille banen gratis mod fremvisning af EDGA-spillerlicens.