Du kan opleve paradressurrytterne til VM i Herning i 2022
Paradressurytter Tobias Thorning Jørgensen og hesten Jolene Hill har netop vundet to guldmedaljer ved de Paralympiske Lege i Tokyo. Danmark er i august 2022 vært for verdensmesterskaberne i paradressur, og allerede nu kan man sikre sig billetter til det firedobbelte verdensmesterskab i Herning i august 2022.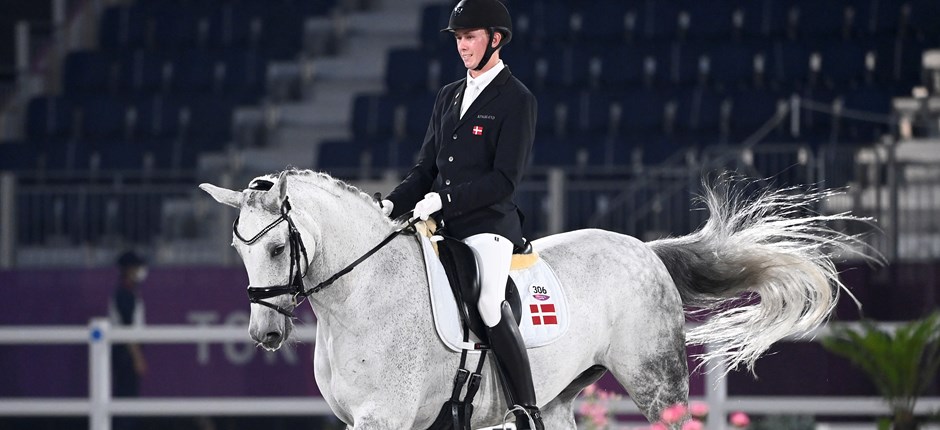 Den danske paradressurrytter Tobias Thorning Jørgensen fra Give var helt i særklasse ved de Paralympiske Lege i Tokyo. Sammen med hesten Jolene Hill sikrede han to guldmedaljer til Danmark, og den ene var Danmarks første ved PL. Det danske landshold var blot 0,028% fra bronzemedaljen i Tokyo.
- Jeg kan næsten ikke vente, til vi skal se de her ryttere igen til VM i Danmark til næste år, udtalte landstræner for paradressurrytterne Astrid Gemal efter den sidste konkurrencedag ved PL i Tokyo. Det danske landshold i paradressur ved de paralympiske lege i Tokyo har vist storform, og der er lagt op til en forrygende dansk indsats ved ECCO FEI World Championships 2022 i Herning.
Når verdensmesterskaberne begynder den 6. august 2022, kan landstræneren stille med et stærkt hold på hjemmebanen i Orifarm Healthcare FEI World Para Dressage Championships.
Billetinformation
Billetterne kan købes via den officielle VM-hjemmeside på dette link: ECCO FEI World Championship Herning 2022 – See you there
Fakta: VM i paradressur 2022
ECCO FEI World Championships i Herning 2022
Fire discipliner: Dressur, Springning, Paradressur og Voltigering.
MCH Messecenter Herning danner rammen for arrangementet, der afholdes på Stutteri Ask Stadium, BB Horse Arena og indendørs i Jyske Bank Boxen fra den 6. - 14. August 2022
ECCO FEI World Championships - Herning 2022 afvikles af selskabet VM Herning 2022 ApS (Casper Cassøe og Jens Trabjerg) i samarbejde med Dansk Ride Forbund, Herning by og Sport Event Denmark.
label