Der er fuld gang i rekrutteringen hos I.H. Aalborg
Idrætsdage, Hop & Spring og sportsskole er blot nogle af de mange rekrutteringsaktiviteter, de har på programmet i I.H Aalborg, og der arbejdes hele tiden på nye rekrutteringsaktiviteter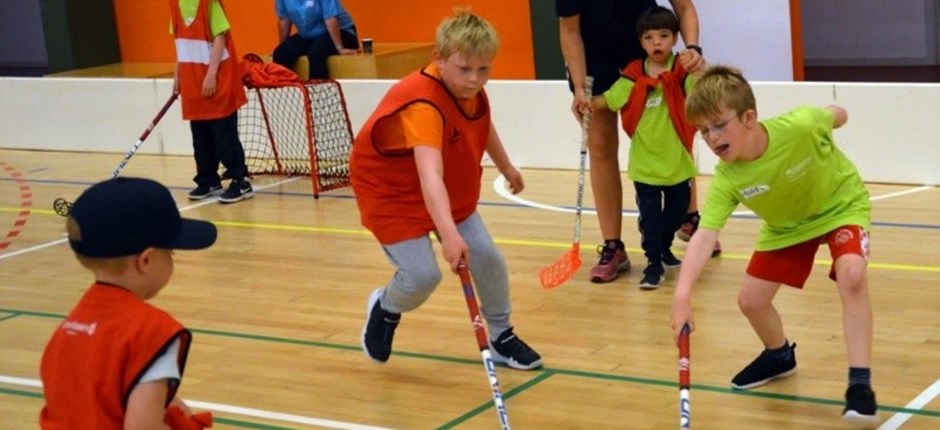 Selvom I.H Aalborg er landets største handicapidrætsforening, kommer medlemmer ikke nødvendigvis af sig selv. Derfor arbejdes der løbende med forskellige aktiviteter, der kan give flere medlemmer til de mere end 20 idrætter, som foreningen tilbyder.
- Formålet med rekrutteringsaktiviteterne er, at vi skal have flere med handicap til at dyrke idræt. Vi har plads til flere medlemmer på vores hold, og hvis der er for få til træning, kan der være risiko for at medlemmerne stopper, fortæller Gerd Skantorp, som er kasserer i foreningen.
Af rekrutteringsindsatser har foreningen blandt andet igennem mange år været fast arrangør af en Parasport Danmark Sportsskole i sommerferien for børn og unge med handicap. I.H. Aalborg har også i den forgangne sæson været vært ved en indendørs og en udendørs idrætsdag med deltagelse fra over 80 elever fra specialklasser i lokalområdet.
- Når vi har flere aktiviteter på samme præsentationsdag, er det ud fra ideen, at jo større mangfoldighed i tilbuddet, desto større chance er der for at fange interessen hos de fremmødte. Ordet idrætsdag taler til flere, end hvis vi kun inviterer til f.eks. fodbold. Vi tror, vi har lettere ved at få folk til at komme igen, hvis de først har prøvet og set vores tilbud. Og da vi har over 20 idrætter at byde på, vil det undre mig, hvis der slet ikke var noget, der kunne friste, fortsætter Gerd.
I.H. Aalborg havde endnu flere idéer til rekrutteringen, men har desværre måtte udskyde idéen om "Lille Sportsskole", grundet forsinkelser i byggeriet af den skole, som foreningen skulle have samarbejdet med. De håber dog fortsat på i fremtiden at kunne tilbyde "Lille Sportsskole", hvor eleverne på en fast ugedag præsenteres for forskellige idrætter i foreningen.
Selvom formålet med foreningens mange rekrutteringsaktiviteter, dels er at få flere medlemmer, mener Gerd, at det er betydningsfuldt at præsentere de unge mennesker for foreningslivets mange kvaliteter:
- Udover at få flere medlemmer er det også vigtigt for den enkelte med et større aktivitetsniveau, som ofte giver større selvværd. Der er også rig mulighed for nye kammerater og netværk. Alt ligger inden for det opnåelige, og er en gevinst, som alle kan have brug for.
Vil du vide mere?
I.H Aalborg tilbyder mere end 20 forskellige idrætsgrene i alt fra hold-, kørestols- og individuelle idrætter. Hvis du vil læse mere om I.H. Aalborg eller se hvilke muligheder, du har for at gå til idræt, kan du læse mere på www.ihaalborg.dk
label