Danske ryttere klar til VM i paracykling 2019
Tre danske ryttere stiller til start i Emmen i Holland i dagene 12.-15. september, hvor der afholdes VM i paracykling.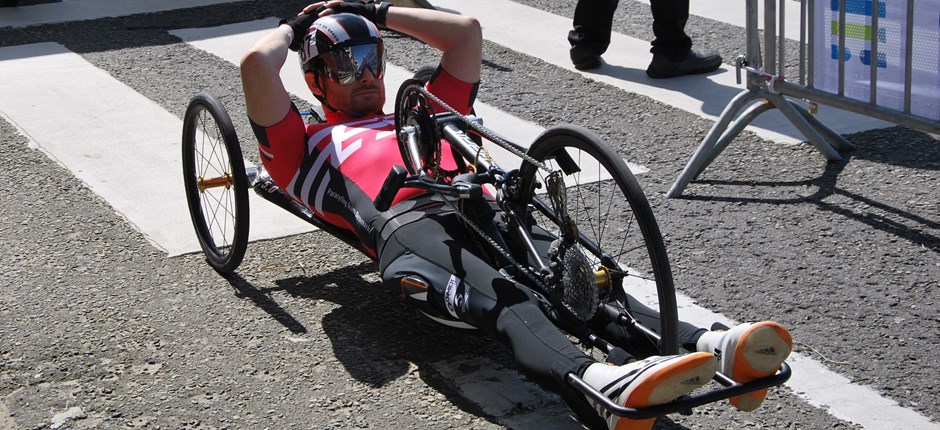 Rutinerede Kim Klüver Christiansen får ved VM selskab af to nye ryttere i landsholdssammenhæng:

• Kim Klüver Christiansen i klasse MH4, håndcykel
• Niels Olsen i klasse MC5, tohjulet cykel
• John Ingemann i klasse MC4, tohjulet cykel
Alle tre stiller til start i både enkeltstart og linjeløb. Niels Olsen og John Ingemann kører torsdag og lørdag, mens Kim Klüver Christiansen skal i ilden fredag og søndag.
For de to nye ryttere er det primære mål at få målt sig med konkurrenterne, mens målsætningen for Kim Klüver Christiansen er en placering blandt de ti bedste, fortæller landstræner Jesper Hvalsøe:
– John Ingemann og Niels Olsen er så nye, at det er vanskeligt at vurdere, hvor de lander i feltet. Vi ved, at de er konkurrencedygtige i deres klasser, og efter torsdagens enkeltstart får vi en bedre idé om, hvordan de ligger i forhold til resten af feltet. For Kims vedkommende kører han efter en top 10-placering i både enkeltstart og linjeløb.
Følg med på denne officielle VM-side her: https://www.cyclingdrenthe.com/RWCint/home.aspx