Danmarksmestrene i paragolf fundet
Årets DGU DM i paragolf blev i den forgangne weekend afholdt med Tange Sø Golfklub som vært. Der ventede de godt 30 tilmeldte spillere en stor udfordring på den meget flotte og super trimmede bane.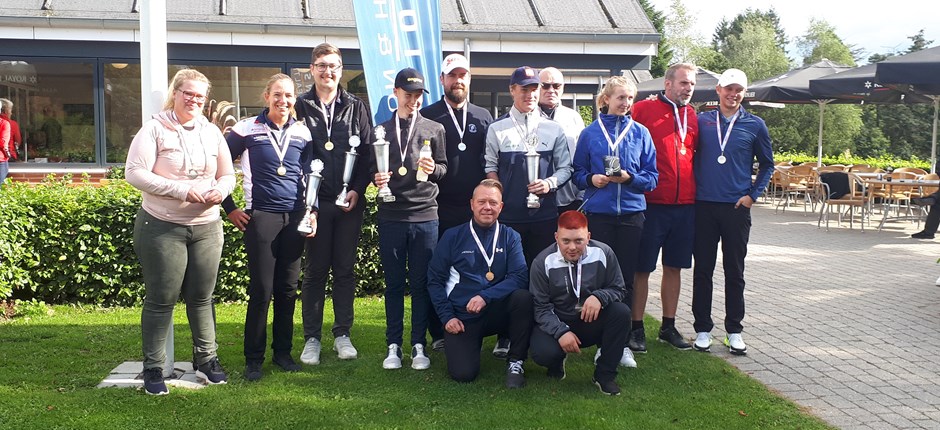 Efter en prøverunde fredag blev selve DM-turneringen afviklet over weekenden med 18 huller lørdag og 18 huller søndag. Vejret bød på kølig frisk vind, men heldigvis ingen regn, og den stærkt kuperede bane var trimmet til perfektion og dannede en flot ramme om årets DM.
Spillerne var opdelt i fem rækker – en damerække (slagspil), to rækker for spillere med udviklingshandicap (Special Olympics - én A-række med slagspil og én B-række med stableford) og to rækker for spillere med fysiske handicap - én med slagspil (herre A) og én med stableford (herre B).
Årets medaljevindere af DGU's DM i Paragolf blev:

Damer (slagspil med 2 deltagere)
Guld: Mette Wegge Lynggaard / Trelleborg/Slagelse GK / 159 slag
Sølv: Camilla Engelgreen / Henne GK / 187 slag
Special Olympics B (stableford mixed m/k)
Guld: William Krag / Lübker Golf Klub / 72 p.
Sølv: Frederik Villads Bech / Helsingør GC / 63 p.
Bronze: Annelene Zobbe Mortensen / Helsingør GC / 61 p.
Special Olympics A (slagspil brutto)
Guld: Casper Holst-Christensen / Frederikssund GK / 148 slag
Sølv: Jonas Lolk Frederiksen / Mølleåens GK / 156 slag
Bronze: Troels Højbjerre / Helsingør GC / 182 slag

Herre B (stableford)
Guld: Hans-Henrik Rønnow / Skive GK / 165 p.
Sølv: Jørgen Bo Larsen / Værebro GK / 165 p.
Bronze: Michael Enggaard Flor / Brande GK 58 p.
Herre A (slagspil brutto)
Guld: Rasmus Løt / Kalø GK / 164 slag
Sølv: Teddy Lundsberg / Herning GK /180
Bronze: Kristian Dalhoff Nielsen / Juelsminde Golfklub / 181 slag

Afslutning på Pensionsselskabets Paragolf Tour 2021
DM var afslutningen på årets Paragolf-sæson, men det var også afslutningen på årets nye tiltag - Pensionsselskabets Paragolf Tour 2021. Der er i sæsonens løb afviklet fem éndagesturneringer med følgende værtsklubber – Møns GK, Trelleborg GK, Dronninglund GK, Brande GK og Sct. Knuds GK. Turneringerne er afviklet med støtte fra Golfexpertens og Pensionsselskabet.

For at deltage i kampen om de to præmier fra Golfexperten - to lækre puttere fra Ping og Callaway - har hver af de knapt 50 deltagende spillere skullet gennemføre mindst tre af de fem turneringer - dvs. at de spillere, der har gennemført alle fem matcher, har kunnet trække de to dårligste runder fra. I touren har spillerne været opdelt i en A-række (slagspil og max. hcp. 18,4) og i en B-række (stableford og hcp. 18,5 og højere) . Der er altså lavet en afvikling, hvor man udelukkende har ladet spillernes golfhandicap afgøre, om de skulle spille A- eller B-række. Spillerne har taget godt imod dette nye koncept, og forberedelserne til Pensionsselskabets Paragolf Tour 2022 er allerede i gang.
Vindere af årets udgave af touren blev:
A-rækken:  Casper Holst-Christensen Frederikssund GK
B-rækken: Annelene Zobbe Mortensen Helsingør GC