Danmark taber tæt semifinale ved VM i kørestolsrugby
Trods massiv opbakning i et fyldt Spektrum i Vejle måtte Danmark efter en velspillet og tæt semifinale se sig besejret med 55-56 af Australien. Danmark har stadig muligheden for at sikre sig den første europæiske VM-medalje, når de spiller bronzekamp søndag kl. 13.45.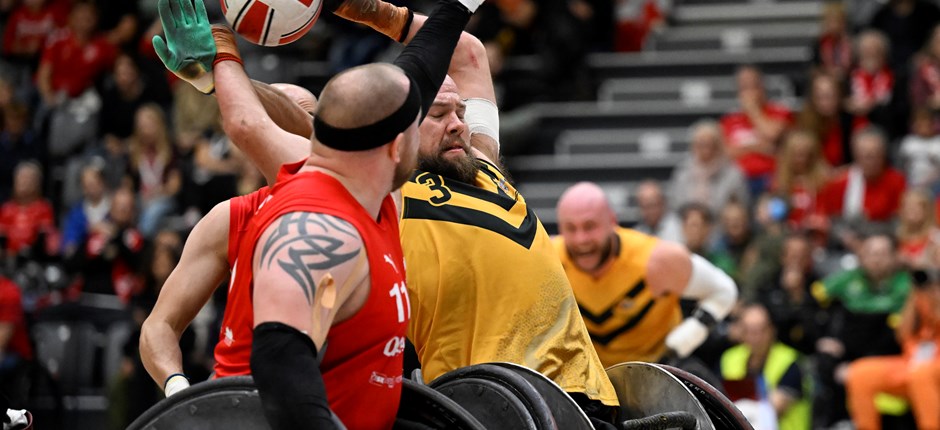 Semifinalen blev spillet foran 1300 tilskuere, som gjorde alt hvad de kunne for at give danskerne vinger.
Og det blev som forventet en tæt og intens kamp, hvor begge hold var klar fra start. De to hold fulgtes ad i store dele af kampen, men et par danske fejl i tredje periode gav australierne et lille hul og en føring på tre mål. Det er meget mod et rutineret verdensklassehold, der næsten ingen fejl laver, og danskerne skulle kæmpe hårdt for at få vendt føringen. Det var lige ved at lykkes i en meget intens slutfase, hvor danskerne fik afværget et par australske angreb, men det blev ved lige ved og næsten, da slutresultatet blev 55-56.
Skuffelsen var selvfølgelig stor hos de danske spillere lige efter slutfløjtet, men der var også stolthed at spore over, at de formåede at spille lige op med Australien. 
- Man står med en meget blandet følelse lige nu, for det er selvfølgelig irriterende, at det igen er det sidste mål, som bliver afgørende. Men vi kan være pavestolte af det, vi har leveret indtil nu, og selvom vi er skuffede, vil vi gerne have en medalje med hjem i morgen, lød det fra den danske landsholdsspiller Thomas Pagh efter kampen.
Også Danmarks landstræner, Jason Regier, var stolt af sit hold trods nederlaget:
– Wow, sikke en kamp. Højt tempo, to gode hold der angreb og lavede meget få fejl. Der var virkelig meget power, og det var tæt. Australien er et tophold, og vi har bevist, at vi er på samme niveau. Jeg er så stolt af spillerne og måden, vi spillede på og stod sammen på. Det er sådan en kamp, hvor resultatet desværre ikke matcher indsatsen.

Han lover, at de danske spillere er klar til at give alt, hvad de har, for at vinde bronzemedaljer i morgen, søndag:
– De skal nok være der. De er så motiverede for at få en medalje, og de glæder sig meget til at spille for det her fantastiske hjemmepublikum igen, og vi håber, at de kan hjælpe os med at slutte det her VM af med en sejr.


Danmark spiller bronzekamp søndag den 16. oktober kl. 13.45.
label