Danmark klar til semifinalen efter gyser mod Schweiz
EM i kørestolsrugbys anden dag er nået til ende med fire spændende opgør i gruppespillet, hvor det endnu engang lykkedes danskerne at hive en sejr hjem.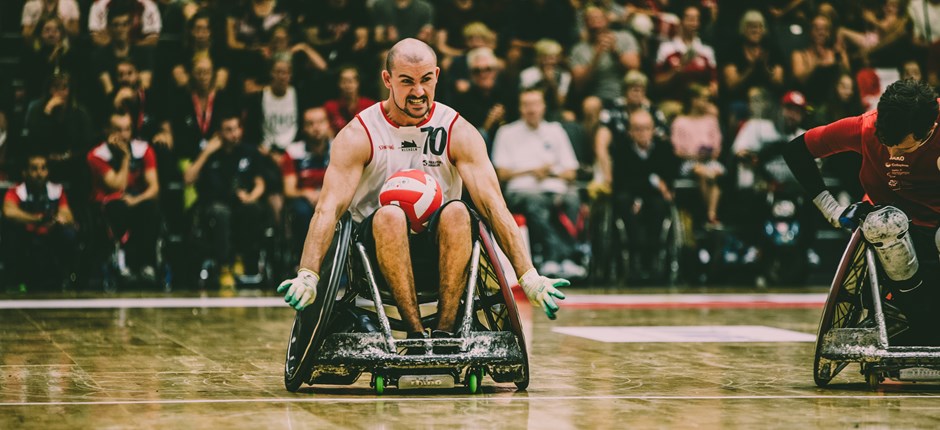 Anden kampdag ved EM i kørestolsrugby er nu veloverstået, og igen har alle otte nationer været på banen i kampen om placeringen i gruppespillet.
Dagen startede ud med et opgør i pulje B mellem England og Polen, hvor favoritterne fra England hev endnu en overbevisende sejr hjem med slutresultatet 56–21. Herefter skulle Frankrig og Holland møde hinanden i pulje A. Frankrig formåede at holde sig ubesejrede med en klar sejr på 62–32.

Dagens højdepunkt, set med danske øjne, kom i tredje kamp, da det danske landshold skulle prøve at fortsætte succesen fra i går og hive endnu en sejr i land, denne gang over Schweiz. Kampen, der endnu engang blev spillet i et fyldt Spektrum,  stod lige helt indtil de sidste minutter af fjerde periode, hvor det til allersidst lykkedes Danmark at trække fra. Kampen endte 50–47 til Danmark. Om dagens tætte opgør fortæller landsholdsspiller Kurt Busk:
 - Det blev mere spændende, end vi havde regnet med. Vi havde nok lidt flere nerver, end vi ville indrømme. Vi har mødt hinanden masser af gange, og Schweiz er et virkelig svært hold at spille imod. De er gode til at få spillet over på deres præmisser og tage tempoet ud af kampen. Det var svært for os at få tempoet op, som vi gerne vil have det. Vi laver for mange dumme fejl, men heldigvis får vi lagt låg på til sidst.
Sidste kamp blev et spændende opgør, hvor Tyskland skulle prøve at rejse sig efter gårsdagens nederlag til Frankrig med en sejr over Sverige. Det endte med endnu et tæt opgør med resultatet 54–51 til Sverige.
I morgen venter endnu fire spændende kampe om placeringen i de to puljer, inden der i weekenden bliver sat gang i placeringskampene. Det bliver spændende at se, om det danske landshold kan holde den gode statistik, når de i morgen klokken 17.45 står overfor den største udfordring indtil videre, når de skal kæmpe mod England.
Vil du se højdepunkter fra Danmarks kamp mod Schweiz, så se med hos DR Sporten her.