Alexander Hillhouse før VM: "Jeg glæder mig til at konkurrere mod de bedste"
For første gang nogensinde skal det 18-årige stortalent Alexander Hillhouse konkurrere på den store internationale svømmescene, når han hopper i bassinet ved VM i Portugal. En opgave, han med egne ord er bedst mulig forberedt på.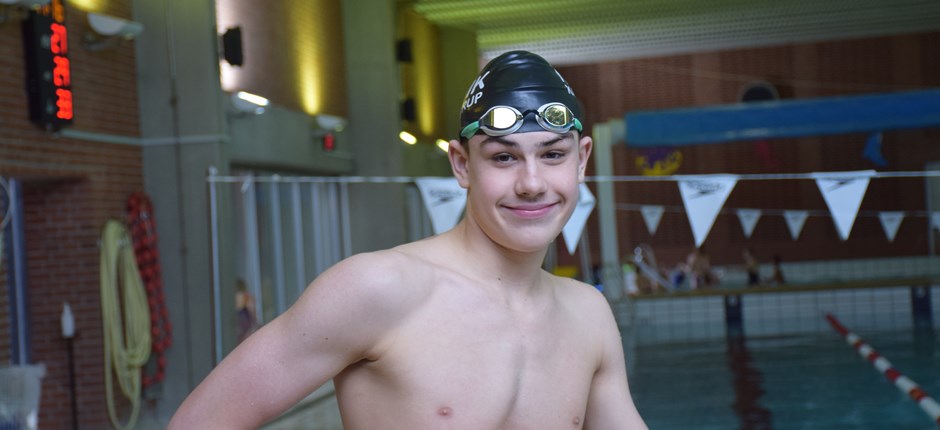 Udgivet 09-06-2022 (Opdateret 13-06-2022)
Med fem forbundsmesterskaber og to nye danmarksrekorder i bagagen kan Alexander Hillhouse, der har et udviklingshandicap, rejse til verdensmesterskaberne i parasvømning med selvtillid og de bedst mulige forberedelser:
- Jeg glæder mig til at se, om den hårde træning har båret frugt, så der forhåbentlig kommer nogle gode resultater. Jeg er i hvert fald bedst muligt forberedt, så jeg skal bare have det sjovt og selvfølgelig levere noget hurtigt svømning, siger Alexander Hillhouse.
Og 'hurtig svømning' er noget, stortalentet er garant for. Han har længe gjort sig bemærket i dansk parasvømning med flotte resultater, en professionel tilgang og stor træningsmoral. Alligevel er det første gang, at Kvik Kastrup-svømmeren debuterer ved et internationalt mesterskab, hvor en unik erfaring skal samles og bruges i den videre udviklingsplan, forklarer landstræner Brian Marshall.
- Vi glæder os først og fremmest over, at Alex får lov til at blive en del af den internationale svømmeverden, hvor han kan konkurrere mod de allerbedste. Det er hans første VM og internationale stævne i det hele taget, så for os bliver det spændende at se, hvor han er i forhold til sin egen udvikling og selvfølgelig de andre i bassinet. Han er stadig en af de yngste i feltet, siger landstræner og fortsætter:
- Vores primære fokus er, hvordan vi udvikler Alex bedst muligt. Her er den internationale erfaring, som et VM giver, et vigtigt skridt i udviklingsplanen, afslutter Brian Marshall.
Alexander Hillhouse er den eneste, der skal repræsentere de rød-hvide-farver ved verdensmesterskabet. Her stiller han til start i tre discipliner: 100 m ryg, 200 m individuel medley og 100 m butterfly.
Alexander Hillshouse svømmer på følgende dage, og du kan følge med her 
13. juni 100 m ryg
16. juni 200 m individuel medley
18. juni 100 m butterfly