Årets sidste udgave af Parasport er udkommet
Kom med Daniel Wagner bag kulisserne i årets Vild med Dans, mød det 11-årige bordtennistalent Alexander Persson og genoplev det vildeste VM i kørestolsrugby i Vejle - det er bare nogle af de historier, man kan læse om i bladet.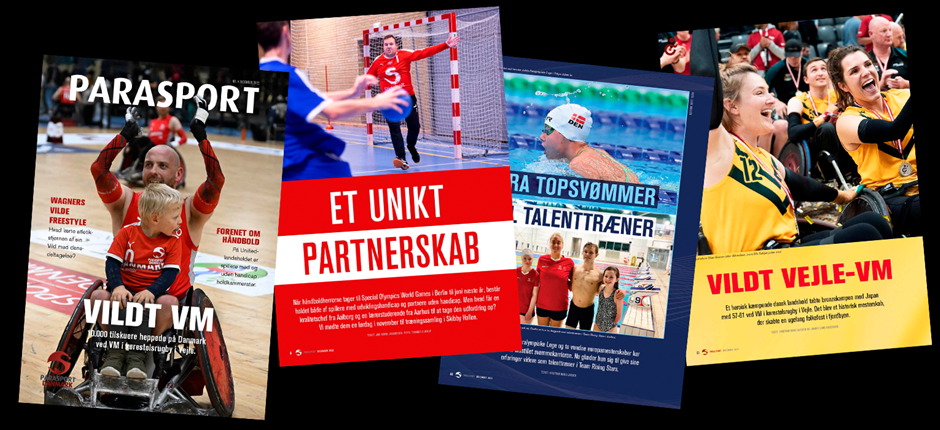 I bladet kigger vi bl.a. tilbage på to af efterårets store højdepunkter, nemlig VM i kørestolsrugby i Vejle i oktober og vores sportslejr for nyskadede, Den Gode Oplevelse, på La Santa i november. I kan også møde 11-årige Alexander Persson med cerebral parese, der har fundet et betydningsfuldt fællesskab til Rising Stars-træningen i bordtennis, og den tidligere topsvømmer Amalie Vinther, der nu deler ud af sin erfaring og hjælper unge svømmetalenter frem.  
Wagners vilde freestyle
Daniel Wagner har aldrig været bleg for at udfordre sig selv, men det seneste halve år har han for alvor været ude af sin komfortzone. Som deltager i Vild med Dans har han udfordret både sig selv og sin bandagist fra Sahva, da der skulle læres dansetrin på rekordtid og ikke mindst findes proteser til alt fra wienervals til jive. Vi har mødt den 29-årige para-atlet til en snak om, hvordan han selv har oplevet hele cirkusset og al opmærksomheden, der fulgte med.

Vi har også taget en snak med nogle af de håndboldspillere, der har meldt sig som partnere på det unified-håndboldhold, der skal repræsentere Danmark ved World Games i Berlin næste sommer. De er på rekordtid faldet i hak med Special Olympics-spillerne, som de har masser af socialt sammen med også uden for banen.
Slutningen af året er traditionen tro præget af priser og hædersbevisninger, og det har givet anledning til at stille spørgsmålet, om det snart er ved at være tid til at få få en para-atlet optaget i sportens Hall of Fame? 
Det er bare nogle af de historier, der er at finde i årets sidste nummer af Parasport. Bladet kan findes her:
Parasport 4-2022 (magasinvisning i PDF-format)
Parasport 4-2022 (webversion - HTML-version egnet til højtlæsningsfunktion)