Ny landstræner med en mission
Som landstræner for Special Olympics-kvinderne vil Pernille Thomsen være med til at præge klubber og trænere i hele Danmark. Men lige nu handler det om at holde motivationen oppe hos spillerne i en svær tid.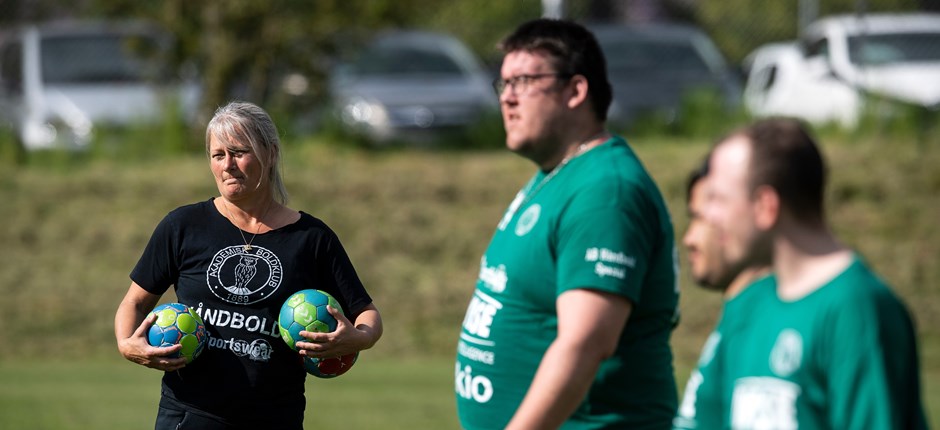 – Når der er en mulighed for at være en del af noget, der er større end en selv, så synes jeg altid, at man skal prøve at tage den chance, fortæller Pernille Thomsen om sin beslutning om at søge stillingen som landstræner. Hun er til daglig træner for AB Håndbolds Special Olympics-hold og fysioterapeut i sit civile liv. Og så har hun været en del af håndboldmiljøet, siden hun var fem år gammel.
Hun afløser Katrine Thoe Nielsen, der i sommers valgte at stoppe efter seks år som landstræner. Holdet overtages i en svær tid præget af aflyste turneringer og COVID-19-restriktioner i klubberne. Det er dog en udfordring, som Pernille gerne tager op.
– Lige nu gælder det for mig om at holde gryden i kog hos spillerne. De må ikke ende med at blive væk, fordi de tænker, at det ikke er sjovt, når man ikke kan spille turneringer og kampe. Nu skal der holdes liv i træningsglæden, indtil hverdagen forhåbentlig snart kommer tilbage, forklarer Pernille, der har store håb for fremtidsplanerne:
– Der er planlagt Special Olympics World Games i Berlin i 2023, og der skal vi bare med, det bliver megafedt.
På herreholdet fortsætter den mangeårige træner Ivan Kristensen. De to trænere har allerede mødtes for at planlægge 2021.  
– Det er fantastisk at kunne samarbejde med Ivan, der har været en del af gamet så længe og har en forståelse for, hvordan man får tingene til at ske. En ting er, at man træner sit eget hold, men hvordan gør man det på et landshold, og hvad kan der skubbes til der? Der er jeg jo helt ny, så det er en kæmpe kapacitet at have Ivan.  
Special Olympics-hold i alle klubber
Som ny landstræner er et mål for Pernille Thomsen at være med til at inspirere andre trænere ude i landets klubber.
– Jeg synes, at der skal arbejdes mod, at Special Olympics-hold bliver en fast del af landets klubber. Ikke kun inden for håndbold, men at klubberne automatisk tænker, at der er et Old Boys-hold, et børnehold osv. og at der så selvfølgelig også er et Special Olympics-hold. Det synes jeg kunne være en dejlig mission at arbejde med, fortæller Pernille og fortsætter:
– Vi skal både være det gode eksempel, men også være den hjælpende hånd for klubber, der gerne vil i gang. Jeg tænker dog, at mit primære fokus lige nu er, at jeg skal være håndboldtræner og falde på plads som i rollen som landstræner. At jeg så har min faglighed og drømmen om den helt store mission med mig som et bagkatalog, synes jeg giver mig lidt ekstra at kunne trække på, som både er enormt sjovt og interessant.