Ny klub: Thisted FC favner bredt
I Thisted Fodbold Club er det blevet en selvfølgelighed at have et parasporthold. Og paraspillerne er blevet en aktiv del af klubben.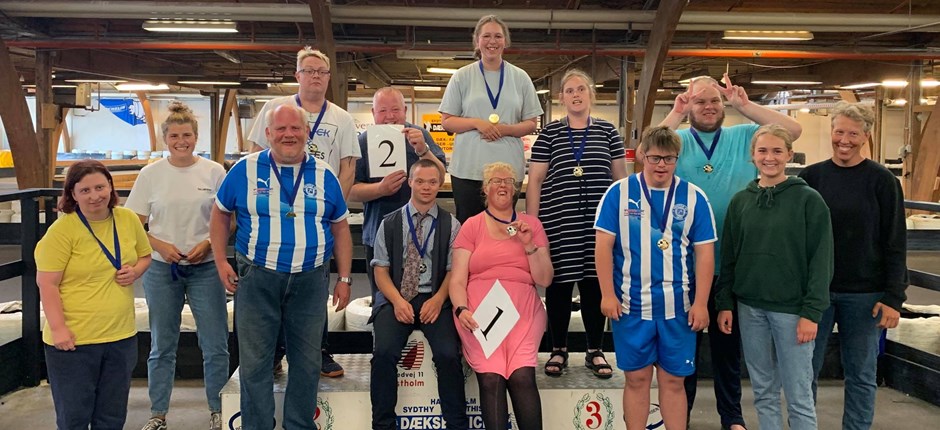 Hos Thisted Fodbold Club er tirsdag mange af medlemmernes yndlings dag. Her er der fast træning for klubbens parafodboldhold. Holdet er for alle spillere med udviklingshandicap og lettere fysiske handicap over 16 år, og her står træningen på stafet, teknik, motorik og ikke mindst kampe. Holdet tæller nu 14 spillere og to trænere.
Den ene træner er Sanne Mortensen, der var med til at starte holdet op.
- Jeg blev ringet op af Thisted Kommune, som spurgte, om jeg kunne være interesseret i at starte parafodbold op i Thisted FC. Det skulle jeg ikke tænke længe over, da jeg synes, at det lød utroligt spændende at gøre parasport til en del af klubben. Nu har vi som klub lært at favne endnu bredere end vi allerede gjorde, og fundet ud af, at det er en selvfølge, at parafodbold skal være på programmet, fortæller Sanne.  
Faste rammer
Tirsdagens træning har en fast form, og alle mødes i god tid, så dagens begivenheder kan vendes, inden der trækkes i fodboldstøvlerne og træningen går i gang.
- Klokken 15.30 bliver der piftet og spillerne ved, at vi skal samles i en rundkreds. Jeg har lært, at det er vigtigt, at vi starter præcis klokken 15.30 og slutter præcis klokken 16.45, og at tingene helst skal være nøje planlagte. Derfor starter vi altid med at fortælle, hvad der skal ske i hele træningen, hvilket giver en god og tryg start for alle, fortæller Sanne.
Der trænes både teknik og kampe, og der kommer altid sved på panden, når parafodboldholdet er på banen.
- En fast del af programmet er at spille på små baner to mod to. Herefter øver de skud på mål, hvilket er det bedste spillerne ved - især når de skal lave hovedstød. Træningen afsluttes altid med, at de spiller på stor bane, hvor der spilles pigerne mod drengene.
En del af klubben
Det er ikke kun motionen, der er i fokus hos parafodboldholdet. Spillerne lærer at være en del af et hold og en klub, og derfor lægges der stor vægt på det sociale fra trænernes side.
- Ved at føle sig som en del af vores klub lærer spillerne, at der skal være plads til alle. Det sociale aspekt har også gjort, at flere af dem er begyndt at komme i klubben som frivillige hjælpere og som en del af fanklubben. Fra ikke at kende noget til Thisted FC, er det pludselig blevet en del af deres hverdag at komme her. Vi har også fået lavet et kampsæt og en klubtrøje til alle på holdet. Det gør, at de er ens i tøjet med resten af klubbens medlemmer og det betyder utroligt meget for dem, fortæller Sanne.
Vil du vide mere?
Kontakt: sanne@thistedfc.dk
Facebook: @thistedfodboldclub
Hjemmeside: www.thistedfc.dk