Frivillig IFORM: Helt på røven over livsglæden, sammenholdet og kammeratskabet
En Special Olympics håndboldkamp blæste Camilla Gylden Thomsen bagover, og fik hende til at etablere et håndboldhold for udviklingshæmmede på Mors.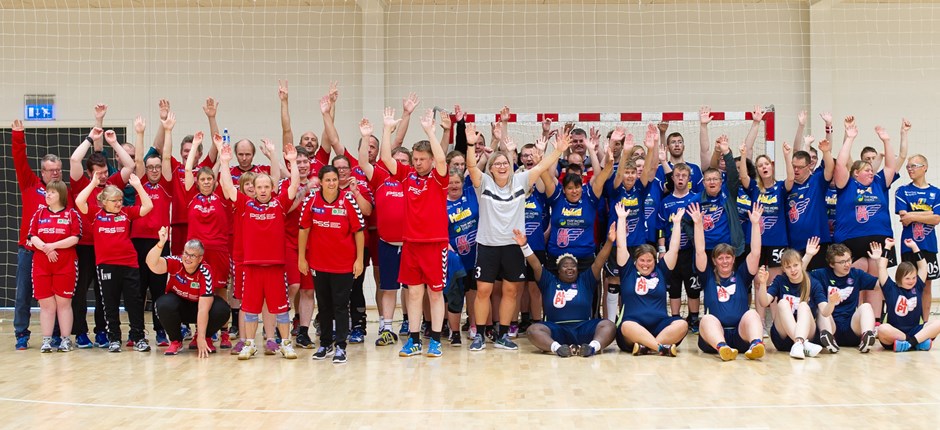 Hvordan startede du som frivillig?
I 2015 startede jeg HF Mors Special Olympics, som er et håndboldhold for voksne udviklingshæmmede. Tanken om et sådant hold havde plantet sig i mig et par år tidligere, hvor jeg til en ligakamp i Boxen i Herning oplevede to Special Olympics hold spille opvisningskamp i pausen - jeg husker, at jeg var helt på røven over den livsglæde, sammenhold og kammeratskab, som jeg tydeligt fornemmede. Fra mit vikarjob i et bofællesskab for udviklingshæmmede i Nykøbing Mors vidste jeg, at mulighederne for idræt og aktiviteter for den her gruppe borgere var ret begrænsede, og jeg undersøgte derfor mulighederne for at starte et håndboldhold op.
Jeg fik grønt lys fra vores klub, HF Mors, og med hjælp fra Parasport Danmark og DHF samt et par velvillige sponsorer startede jeg holdet op. Fem år senere er vi 47 spillere i alderen 18-63 år samt 10 frivillige trænere.
Hvorfor er du frivillig?
Fordi det gør mig glad. Jeg er vild med tanken om, at ALLE kan dyrke den sport, jeg selv elsker, har brugt og stadig bruger størstedelen af min tid på. Onsdag eftermiddage med S.O.-træning er mit "Happy Place" - mit helle. Det er fantastisk at se andres glæde over noget, som man selv holder så meget af, ligesom jeg også bliver glad, når jeg oplever spillernes forståelse og omsorg for hinanden og ser, hvordan venskaber blomstrer på kryds og tværs af alder og køn - én ting er det sportslige, en anden er det sociale element, som er en meget stor del på vores hold.
Hvad er din største oplevelse?
Vores stævner i turneringen under Parasport Danmark, især på hjemmebane med masser af tilskuere og opbakning, det er helt specielt. Derudover har vi to gange haft besøg af et hold fra Stavanger, som vi har spillet "landskampe" mod. Jeg har været på fotoshoot i København med en af vores spillere, som var med i Parasport Danmarks kampagne "Hvor svært kan det være?" Og så er der de helt små ting, som at se glæden ved en scoring eller en god redning, og når træningen er slut og man får en krammer eller en High Five.
Hvad er du mest stolt over?
Over at have startet holdet, og at det er blevet så stor en succes med spillere fra både Mors, Thy og Salling. Over at have fået mange mennesker i gang med at dyrke sport - og været med til at skabe et fantastisk fællesskab. Og så blev jeg tildelt Morsø Kommunes Handicappris i 2018, den er jeg sgu stolt af.