Covid-19-kreativitet hjælper skyttelandsholdet
Under Covid-19-krisen har det danske paraskytte-landshold måtte udvikle nye træningsmetoder, som også kan hjælpe skytterne fremadrettet.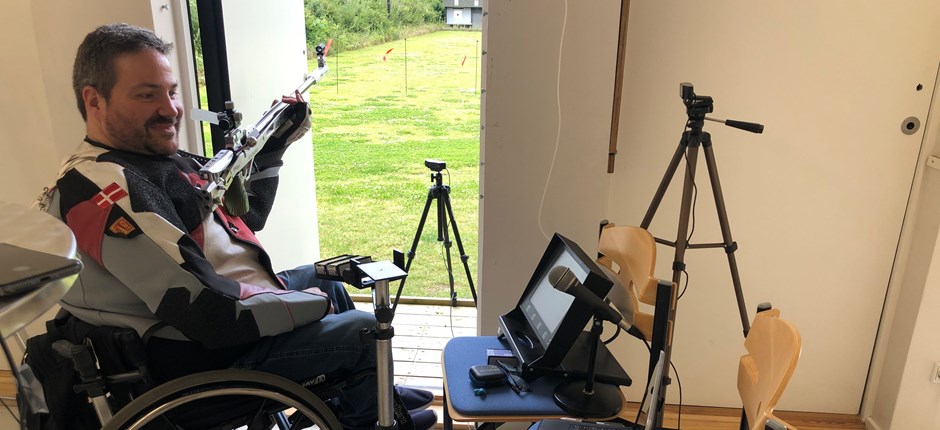 I weekenden den 10.-12. juli var landsholdsskytterne samlet i Nykøbing Falster Skytteforening til den første fællestræning, efter at Danmark lukkede ned. Den vigtigste person var dog blevet hjemme på grund af Covid-19: Den svenske landstræner Jonas Jacobsson.  
For at landstræneren havde mulighed for at følge skytterne og komme med feedback til den enkelte, blev der sat fem webkameraer op, som filmede skytten fra forskellige vinkler. Fra Sverige kunne landstræneren så på én computer skifte mellem de fem vinkler, og på en anden vise skytten, hvis der var noget ved skydestillingen, der skulle rettes.
Skytterne gik til træningen med en vis skepsis, for der var meget teknik, der kunne svigte. Men skepsis blev hurtigt gjort til skamme. Dels fungerede teknikken upåklageligt, og dels havde den enkelte skytte, som noget nyt, landstrænerens fulde opmærksomhed i halvanden time.
– Selv om vi alle håber at kunne vende tilbage til mere normale forhold, kan det godt betale sig at tænke i nye måder at træne og samles på med alle de tekniske muligheder, der findes, fortæller paraskytte Jens Frimann, der ligesom landsholdschef Jens Møllenberg var godt tilfreds med online-forsøget:
– Vi vil fremadrettet benytte vores tekniske opsætning, også selvom Jonas er fysisk til stede. Det er et godt visuelt værktøj, der kan fremme forståelsen, og det giver samtidig træneren flere muligheder til at kunne komme rundt om hele skytten, siger han og forsætter:
– Vi har igennem coronaperioden arbejdet med fjernsupport med elektroniske træningssystemer og webcams, så vi har kunnet sidde hjemme og følge den enkelte skytte træne og give support. Det vil vi også fortsætte med, da vi kan se, at det har en god virkning.
Paralympisk kvoteplads i sigtekornet
Træningssamlingen blev afholdt hos Nykøbing Falster Skytteforening, der havde søgt støtte og fået 40.000 kr. fra Kulturministeriets coronapulje til tre træningssamlinger. Samlingen var en del af paraskydnings nye ambitiøse udviklingsprojekt, hvor der er fokus på at rekruttere nye skytter, opbygge en ny bruttogruppe til landsholdet samt implementere en ny træningskultur og et nyt koncept for talent- og elitearbejdet.
– Målet er at opnå Team Danmark-status igen, og ved de Paralympiske Lege i 2028 skal vi minimum have fem danske skytter med. På kort sigt skal vi have klassificeret de nye skytter i foråret 2021, deltage ved EM l i februar 2021 og gerne vinde en kvoteplads til de Paralympiske Lege i Tokyo ved World Cuppen i Lima. Derudover deltager vi ved 6-8 internationale konkurrencer frem mod PL, så hvis coronaen tillader det, har vi et tæt pakket program med konkurrencer og træningssamlinger i 2021, fortæller Jens Møllenberg.