"Oh shit!..."
… tænkte Anders Berenth, da han den 5. januar modtog Kulturministerens Parasportpris. Verdens bedste Powerchair Floorball-spiller fortæller her om nogle vilde måneder, hvor han var med til at vinde VM-sølv og blev hædret med to store priser.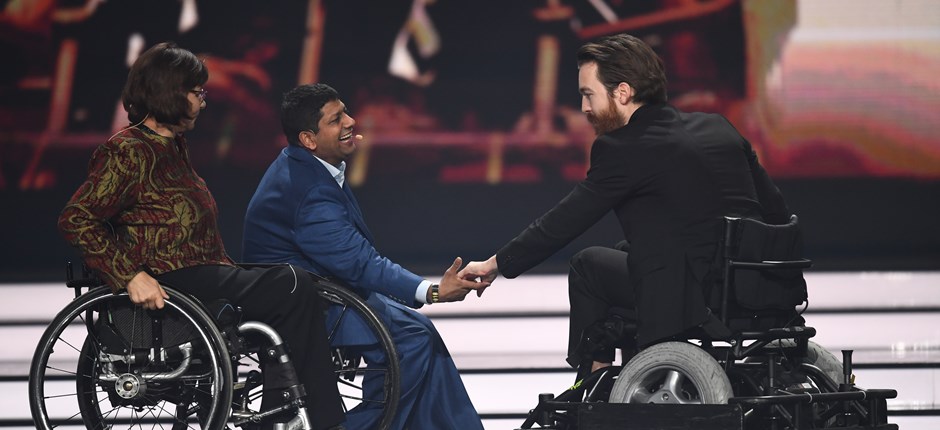 - At få Kulturministeriet Parasportpris var en vild kulmination på det seneste år. Det er en kæmpe ære og betyder meget for mig. Jeg ser det som en anerkendelse af vores sport, og at jeg er en rollemodel for andre. Det får mig til at tænke over, hvordan jeg kan give det videre.
- Da jeg fik prisen, tænkte jeg, "oh shit!". Jeg var rimelig nervøs. Selv om jeg kan gå, valgte jeg at have sportsstolen med på scenen. Havde jeg været gående, skulle jeg svare på en masse spørgsmål om det. Nu var fokus på sporten. 
- Bagefter var der mange der lykønskede mig, og jeg snakkede blandt andet med Pernille Harder og med andre parasport-atleter. Det var sjovt at få sat ansigt på hinanden, og det er fedt, at det bliver mere normalt at have parasport med, på lige fod med al anden idræt. 
- Jeg har været træner i el-hockey i 'Orient Red Bulls' i mange år. Folk siger, at jeg har gjort et kæmpe stykke arbejde, men for mig har det bare været det der skulle til. Når man dyrker sin sport, så bidrager man også til det ved siden af. Det er jeg opdraget til af mine forældre, som altid har været aktive.
- Som træner er det en glæde at videregive den følelse jeg selv har fået af at dyrke sport. Den energi og glæde man får, både til de store turneringer, men også ved at spille til dagligt.  
- Ved VM i september holdt vi et højt bundniveau og toppede i semifinalen, hvor vi slog de forsvarende verdensmestre fra Holland med 4-3. Det skyldes især vores trænere, Berrie Hommel og Marcel van den Muysenberg, der som aktive har vundet alt med netop Holland. Berrie er den største spiller nogensinde, Powerchair Floorballens Messi. Vi har altid været gode på landsholdet, men vi har manglet det sidste killer-instinkt. Men vi har fået noget ekstra, som man kun kan få ved at have spillere det har prøvet det før, som trænere.
- Det betød meget at vinde prisen som bedste spiller ved VM, især fordi det var de andre spillere og trænere der stemte på mig. Men da jeg fik den, var var jeg stadig sur over at have tabt finalen, så jeg nød det ikke rigtigt. Det er mit vindergen.
Anders Berenth
·         Alder: 28 år
·         Klub: Orient Red Bulls
·         Træner: Holdet Orient 1 (el-hockey)
·         Handicap: Muskelsvind
·         Vandt i september 2018 VM-sølv med Danmark og blev ved samme lejlighed kåret til verdens bedste Powerchair Floorball-spiller.
·         Modtog 5. januar 2019 Kulturministerens Parasportspris