Landsholdet i kørestolsrugby er klar til EM-finalen og de Paralympiske Lege i Tokyo
Frankrig blev besejret i lørdagens semifinale i DGI Huset Vejle, og et ekstatisk dansk landshold har dermed sikret sig direkte kvalifikation til næste års Paralympiske Lege. I EM-finalen søndag venter Storbritannien.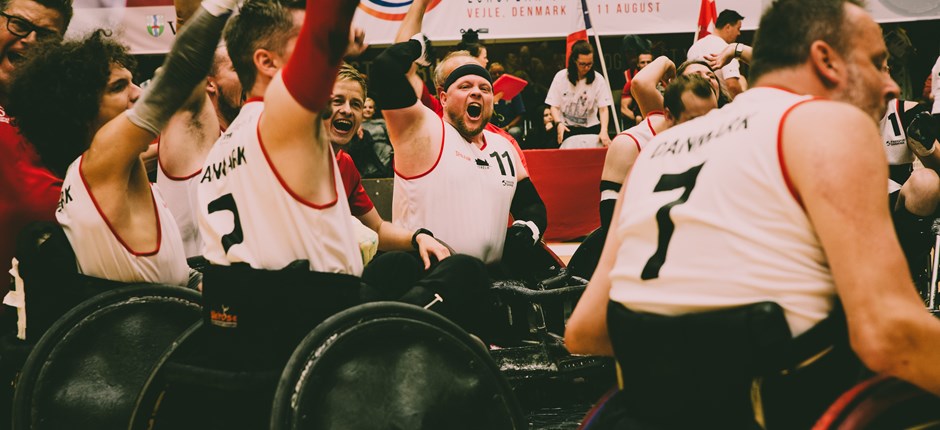 Med et propfyldt DGI Huset i ryggen lagde de danske spillere stærkt fra land i kampen mod Frankrig. Danmark fik i løbet af de første to perioder opbygget en solid føring på 28-22 anført af en stærkt spillende Sebastian Frederiksen. Selvom Frankrig i tredje periode fik skåret føringen ned til bare et enkelt mål, havde Danmark overskuddet til at lukke kampen og vinde 53-49.
- Jeg kan slet ikke beskrive, hvor glad jeg er. Jeg er mere end glad. Det er helt vildt. Det er det største, jeg har været med til som spiller, siger Sebastian Frederiksen, der stod bag 32 danske scoringer.
Han var hurtig til at rose det danske publikum, der i Vejle har taget parasporten og kørestolsrugby til sig som aldrig før.
- Det er en utrolig oplevelse at spille foran sådan et publikum. Man føler, man flyver. Selvom jeg var utrolig træt til sidst, gav de mig kræfterne til at fortsætte, siger han.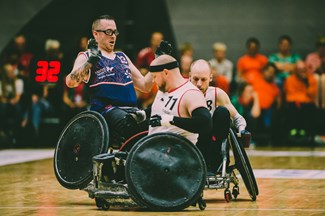 Klar til Tokyo 
Lørdagens sejr sender Danmark i EM-finalen for anden gang og betyder samtidig, at holdet er sikret deltagelse ved næste års Paralympiske Lege for første gang i historien. PL-kvalifikationen var det helt store mål for holdet og Parasport Danmark.
- Det er fantastisk. Vi har forsøgt to gange tidligere at kvalificere os, og tredje gang var altså lykkens gang. Holdet foldede sig virkelig ud, og det var genialt arbejde af både spillere og trænere. De trådte virkelig i karakter i dag. For parasporten har det rigtig stor betydning, for kørestolsrugby har enorm underholdningsværdi, siger sportschef Michael Møllgaard fra Parasport Danmark.
Svær finale
I søndagens EM-finale i Vejle venter Storbritannien, der er ubesejret i turneringen og har vundet de seneste to Europamesterskaber. Danmark har aldrig tidligere vundet EM-guld, men har en sølvmedalje fra 2013 som bedste resultat. I morgen kan holdet spille frit og drage fordel af hjemmebanen.
- Vi vil jo gerne vinde på hjemmebane. Det vil være drømmen. Nu skal vi lige nyde denne her sejr, og så skal vi lave en battleplan for i morgen. Jeg håber, vi kan gøre det, siger landsholdets anfører Leon Jørgensen.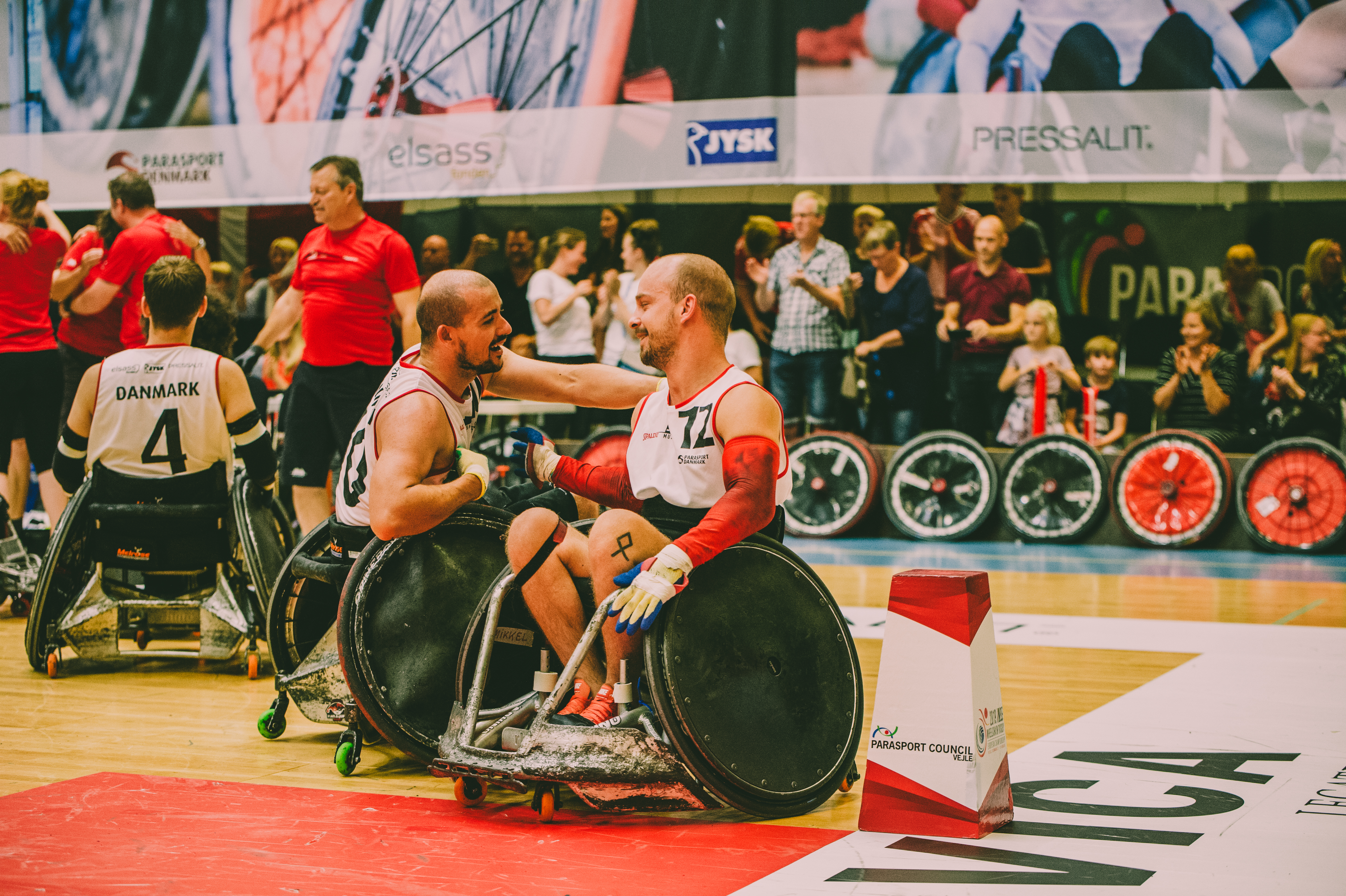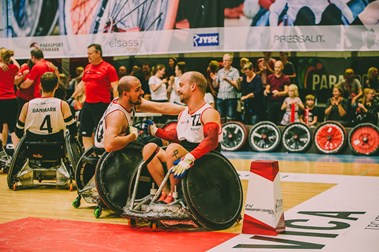 Kampen mellem Danmark og Storbritannien starter kl. 15.45 og kan ses på DRTV.
Fakta: EM i kørestolsrugby 2019
EM i kørestolsrugby 2019 finder sted fra den 7.-11. august i DGI Huset i Vejle. Parasport Danmark og den internationale organisation for kørestolsrugby, IWRF, står bag arrangementet i samarbejde med Vejle Kommune, Sport Event Denmark og Parasport Danmarks hovedsponsorer: JYSK, Pressalit og Elsass Fonden.
EM-hjemmeside: https://2019wrec.com/