Danmark spiller sig i semifinalen ved VM i kørestolsrugby
Stemningen var på kogepunktet i DGI Huset i Vejle, da det danske landshold i en vanvittig kvartfinale slog de franske europamestre med 55-53 efter forlænget spilletid. Dermed er Danmark for første gang nogensinde klar til at spille VM-semifinale. Det sker lørdag kl. 14.30 mod Australien.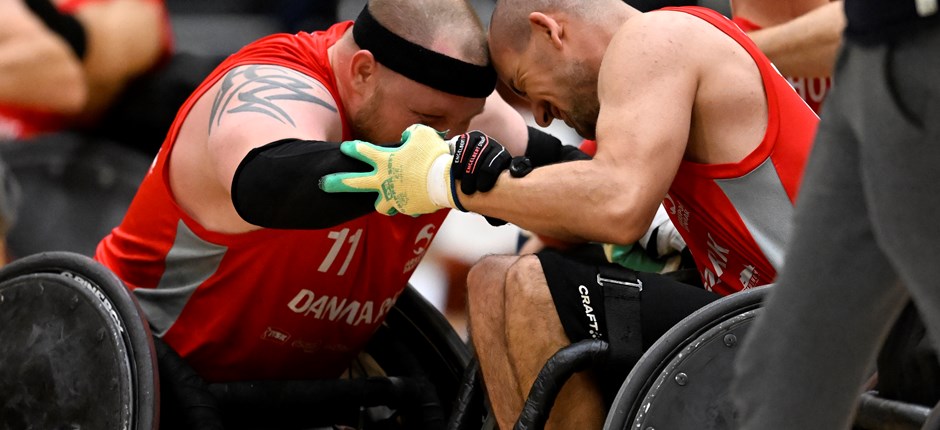 De franske europamestre var ellers forhåndsfavoritter efter at være sluttet som nummer et i deres pulje med fem sejre ud af fem mulige. Men danskerne var fokuserede fra start, og det blev en særdeles spændende og helt lige kamp, hvor de to hold fulgtes ad det meste af tiden, men danskerne var tæt på at smide det hele i slutfasen.
Med bare 48 sekunder tilbage af kampen førte Danmark med to, og det lignede en dansk sejr. Men to fejl i den afgørende slutfase kostede dyrt, og Frankrig formåede i de sidste sekunder at tvinge kampen ud i forlænget spilletid. Her vandt Danmark heldigvis bolden og formåede kort efter at afværge et fransk angreb og sikre den tomålsføring, der blev afgørende for den endelige sejr.
– Det er fuldstændig sindssygt! Vi var oppe med to kort før tid og smider det alligevel, men formår at komme tilbage i den forlængede spilletid. Det var så fedt og så endda i denne her fantastiske kulisse her i Vejle, lød det fra en glad anfører Leon Jørgensen umiddelbart efter kampen.
Assistenttræner Thor Johansson var glad og stolt over, at spillerne formåede at holde fokus, selv om de lavede fejl:
– Vi vidste, at det ville blive tæt, og at vi ville blive pressede, men vi vidste også, at vi er i bedre form end dem, så jo længere kampen kom hen, jo mere var det til vores fordel. Og så er det altafgørende, at vi bliver ved med at tro på det. Vi har lukket kampen flere gange og kommer til at lukke dem ind igen, men spillerne bliver ved med at tro på, at vi har værktøjerne til at løse det. Det var superfedt, lød det anerkendende fra den danske assistenttræner.
Danmark møder Australien i semifinalen, der spilles i morgen, lørdag den 15. oktober, kl. 14.30 i DGI Huset i Vejle. Den anden semifinale spilles kl. 16.45 – her mødes Japan og USA.
Der er plads til 1.500 tilskuere i Spektrum i DGI Huset i Vejle, og det er stadig muligt at sikre sig en billet: Tickets | 2022wrwc.com

Fakta: VM i kørestolsrugby 2022
VM i kørestolsrugby finder sted i dagene 10.-16. oktober i DGI Huset i Vejle.
Danmark er i pulje B sammen med Australien, Japan, Canada, Brasilien og Colombia. I pulje A mødes Storbritannien, USA, Frankrig, New Zealand, Tyskland og Schweiz. Fire hold fra hver pulje går videre til kvartfinalerne, som spilles fredag den 14. oktober. VM-finalen afvikles søndag den 16. oktober kl. 16.
Se hele kampprogrammet og øvrig info om VM på 2022wrwc.com, hvor der også kan købes billetter.
Verdensranglisten i kørestolsrugby toppes af de forsvarende verdensmestre Japan foran Storbritannien og USA. Danmark er pt. nr. 7 i verden og vandt i foråret 2022 bronze ved EM i Paris. Danmarks hidtil bedste VM-resultat er en 6. plads i 2014.
Bag VM står Parasport Danmark, Sport Event Denmark og Vejle Kommune med støtte fra JYSK, Pressalit, Elsass Fonden og Musholm, der er hovedsponsor for kørestolsrugby i Danmark og nationalt træningscenter for det danske landshold.
label