Kom og prøv el-hockey i Gørding
Gørding Knights Floorball Klub har taget parasporten el-hockey under deres vinger for at kunne tilbyde idrætsgrenen, som retter sig mod fysik handicappede børn og unge fra 8 år og opefter.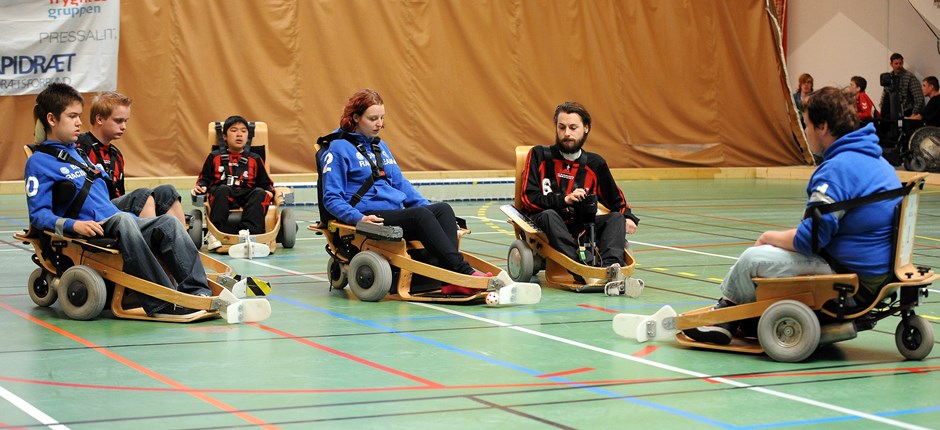 Børn og unge med et fysisk handicap har nu muligheden for at komme ud til Gørding hallen og prøve parasporten el-hockey. Dem der er interesserede skal blot møde op, da klubben har alt det nødvendige udstyr.
Det eneste krav til en el-hockeyspiller er, at man har en form for fysisk handicap, dværgvækst eller andet tilsvarende. Man skal som spiller selv kunne komme i el-hockey stolen eller have en forældre eller hjælper med. I Gørding er der også en lift til rådighed, hvis der er behov for det.
Gørding hallen er meget handicapvenlig med et stort handicaptoilet med loftlift og niveaufrit indgangsparti.
El-hockey tiltaget er en del af Gørding Knights Floorball Klub. Bag tiltaget er to unge mænd på 18 og 20 år, der begge er kørestolsbrugere, og har mange års erfaring, som el-hockeyspillere på højt niveau. De vil som trænere styre spillet, og være med til at hjælpe nye spillere godt i gang med sporten.
El-hockey er en aktiv sport under Parasport Danmark som giver gode sociale relationer i klubben og rundt omkring i de andre klubber man møder.
Hvor og hvornår
Træningen foregår i Gørding Hallen, Skolegade 14, 6690 Gørdig.
El-hockey starter op med to 'kom og prøv'-dage på lørdag den 31. august og lørdag den 7. september. Begge dage mellem 10.00-12.00.
Har du nogle spørgsmål mht. opstarten af det nye el-hockeyhold, så kontakt Michael på mail: michael60804306@gmail.com.
label