Benløse Floorball Club afviklede Special Olympics Floorball Cup
Floorball i Parasport Danmark-regi er ved at blive relanceret og opstartet på ny. Derfor havde arbejdsgruppen Special Olympics Floorball allieret sig med en af Danmarks største floorballklubber, Benløse Floorball Club, om at afvikle en cup lørdag den 11. maj.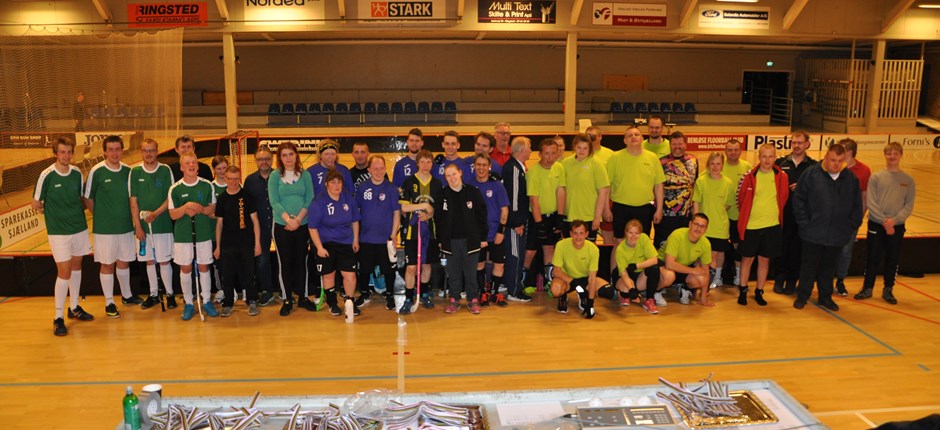 Der var tilmeldt syv hold fra de fire klubber Vi-Ka Thisted, Lavuk/Vanløse Floorball, Haderslev HI og Klub Fri Slagelse. En enkelt meget dedikeret spiller var solo-tilmeldt, og rejste hele den lange vej fra Vesthimmerland til Ringsted. Han kom til at spille på holdet fra Vi-Ka Thisted, og faldt hurtigt ind i rytmen og jargonen på holdet.
Holdene var inddelt i to rækker, hvor man i den ene rækkes spillede tre mod tre på lille bane (mini-floorball), og i den anden række spillede fire mod fire på en større bane (Kleinfeld med fast målmand). Formålet med denne opdeling var at gøre det muligt for spillere at deltage, selv om de måske var nye og uerfarne spillere i floorball.
Desværre var der afbud fra en del spillere, som også er aktive i fodbold, så det blev lidt af en udfordring at matche holdene i de to rækker. Men de deltagende hold udviste både stort engagement og god fairplay, så det lykkedes fint med at afvikle nogle gode kampe, trods den synlige forskel på spillernes niveau.
Fire mod fire-rækken blev vundet af holdet fra Lavuk/Vanløse Floorball, og tre mod tre-rækken blev vundet af holdet fra Haderslev HI.
Og Benløse Floorball Club var tilfredse med arrangementet, så mon ikke også de til næste år vil organisere et floorballstævne for Special Olympics spillere? Deltagerne fra i år er i hvert fald klar!
label