Herning Pirates sejrede i international floorball-turnering
Herning Pirates Special Olympics floorballhold gik hele vejen, da holdet i starten af september deltog i en international turnering i Rosenheim ved München.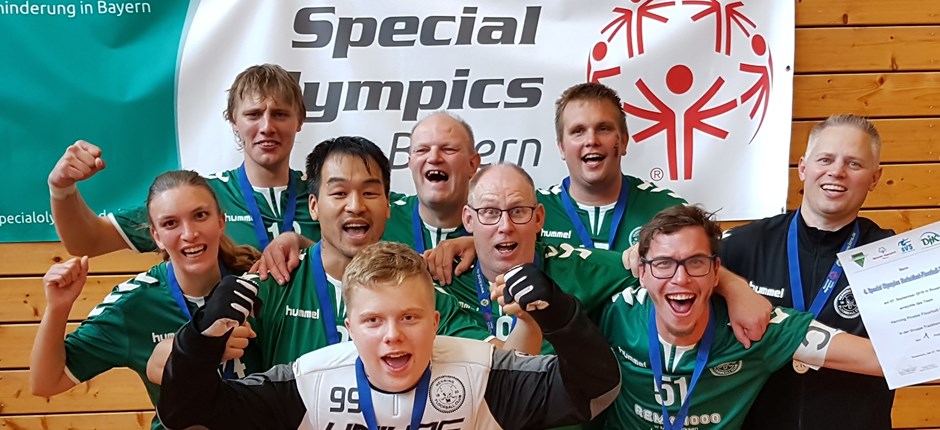 Da holdet for fire år siden vandt guld samme sted i A-rækken, gjorde de rent bord, men holdet bestod denne her gang af flere nye spillere og kun tre gengangere, så Hernings træner Poul Janik Jensen var meget spændt på at se, om den sidste måneds intensive træning ville give pote.
Første kamp var mod sølvvinderne fra sidste gang, Hamborg Hoisbüttel – en inddelingskamp, der skulle afgøre, om holdet kom i A- eller B-rækken. Trods en lidt rodet og nervøs start blev kampen vundet sikkert 4-1, og holdet var dermed klar til A-rækken, som kom til at bestå af Herning Pirates samt to tyske og et østrigsk hold.

Hermed var det tid til kampen om guldet, og i første kamp skulle holdet møde det østrigske hold Linz – et hold og spillestil, som de ikke kendte noget til. Det viste sig ikke at gøre det det store, da Herning-holdet efter de 2 x 8 minutter kunne juble over en storsejr på hele 8-1.
I den næste kamp var modstanderen igen Hamborg Hoisbüttel, men denne gang var taktikken lagt, og det flotte spil kørte som det skulle, så det blev til en flot og sikker sejr på 7-0.

De øvrige resultater i rækken gjorde, at den tredje kamp blev en direkte finale mod tyske Memmingen der også var ubesejret efter de to første kampe. Og endnu engang formåede Herning Pirates at finde storspillet frem, da det blev til en sikker sejr på 5-1, og de blev dermed vindere af turneringen.

Træner Poul Janik Jensen var stolt over holdets præstation:
– Det var en kæmpe oplevelse, og det gør mig stolt, at vi faktisk vinder så overbevisende, for jeg ved, at holdet har kæmpet for hinanden. Skal jeg fremhæve nogen, må det være vores unge målmand Keith Kjær, som stod fantastisk og kun lukkede tre mål ind i hele turneringen, samt holdets eneste damespiller, Kaia Linea Ellekær Udengaard, som ikke lod sig kue af nogen og gav alt hvad hun kunne. Men selvfølgelig skal også resten af holdet have stor ros for den gode fightervilje og det flotte spil.
Topscorer på holdet blev Frederik Sandgaard med ni mål og tre assists.
Anders Andersen stod for turneringens hurtigste mål efter bare 7 sekunders spil.
Og Niels Hindborg Kristensen lavede bl.a. turneringens eneste hattrick.
Guldholdet bestod af:
Keith Kjær (målmand), Anders Andersen, Frederik Sandgaard, Jens Hedegaard, Kaia Linea Ellekær Udengaard, Morten Emil Larsen, Niels Hindborg Kristensen og Peter Petersen.
Træner: Poul Janik Jensen
Topscorerliste + udvisninger:
1: Sandgaard med 9 mål og 3 assists.
2: Baune med 7 mål og 2 assists. + 2 min. i boksen.
3: Morten med 2 mål og 4 assists.
4: Peter med 3 mål og 2 assists.
5: Anders med 2 mål og 1 assits.
6: Kaia med 1 mål.
7: Keith og Hedegaard = 0. points
Samlet målscore blev i alt 24-3 efter de fire kampe.
label