Verdens bedste powerchair hockey-spiller vinder Kulturministerens Parasportspris
Anders Berenth, landsholdsspiller i Powerchair Hockey, blev ved DRs sportsgalla-show 'Sport 2018' kåret som vinder af Kulturministerens Parasportspris 2018. Prisen blev givet for Anders Berenths mangeårige indsats for udbredelse af sporten samt hans egen unikke indsats ved VM i 2018, hvor han også blev kåret som verdens bedste Powerchair Hockey-spiller 2018.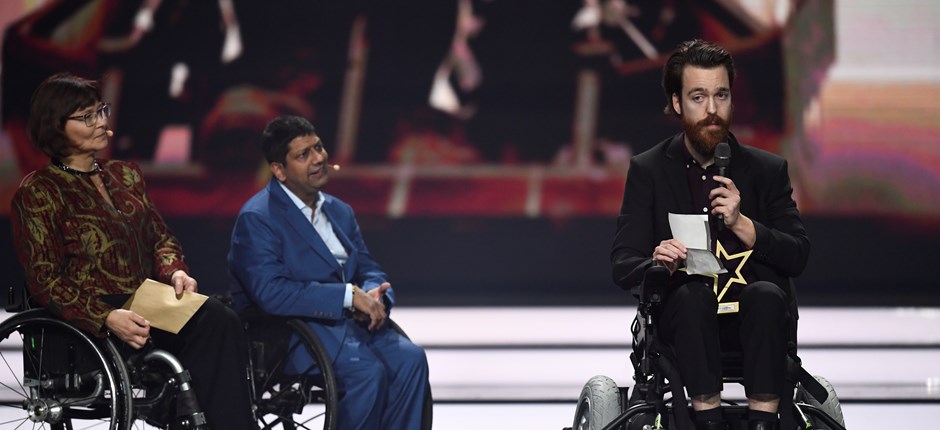 Som playmaker for det danske landshold var Anders Berenth stærkt medvirkende til, at Danmark opnåede en VM-sølvmedalje i Powerchair Hockey (hockey i elektrisk kørestol). Anders Berenth, som i 2018 også blev kåret til verdens bedste Powerchair Hockey-spiller, har været engageret i sporten i over 20 år og har ikke kun imponeret med sine evner som atlet. Han har ved siden af sin aktive atletkarriere også ageret træner i klubben 'Orient Red Bulls', fordi han har ønsket at give så meget som muligt tilbage til den sport, som har givet ham så meget.
Kulturminister Mette Bock begrundede valget således:
- Anders Berenth er et fantastisk godt eksempel på en atlet, som udover at levere store sportslige præstationer også formår at inspirere og gå forrest, når det gælder at udbrede sporten til andre – en ægte ildsjæl. Jeg er glad for at kunne tildele Anders Berenth Kulturministerens Parasportspris 2018.
Selv var Anders Berenth både overrasket og stolt over at modtage prisen:
- Det er rimelig vildt! Men det har kun været muligt at nå hertil med mine holdkammerater, og mine forældre skal også have en stor tak for at have sendt mig til sport. Selv om der står mit navn på prisen, så er det her også pris til Powerchair Hockey-sporten, og jeg håber at kunne være med til at vise, at man godt kan dyrke sport i elektrisk kørestol og få venner for livet.
Ud over Anders Berenth var også Vejle Kommune og Mathias Krabholm/Judo Danmark nomineret til prisen. 

Kort om prisen

Kulturministerens Parasportspris er en hyldest til den eller de personer, der yder en ekstraordinær indsats for handicapidræt. Prisen hædrer ildsjæle, som yder en unik indsats for at skabe bedre vilkår for parasportsatleter til at dyrke idræt og fejrer atleter, der har bedrevet exceptionelle resultater i parasportsidrætten. Prisen er på 100.000 kroner.
Kulturministeren Mette Bock overrakte prisen til Anders Berenth i fællesskab med sidste års vindere af prisen, Connie Hansen og Mansoor Siddiqi, ved DRs sportsgalla-show 'Sport 2018' den 5. januar, der blev afholdt i Jyske Bank Boxen i Herning.
label