Stor interesse for nyt dressurtiltag
38 ryttere fik vist sig frem for landstræner Astrid Gemal, da Parasport Danmarks rideudvalg og landstrænerteam i dressur tog hul på en ny sportsplan for ridning ved at invitere til to åbne træningssamlinger.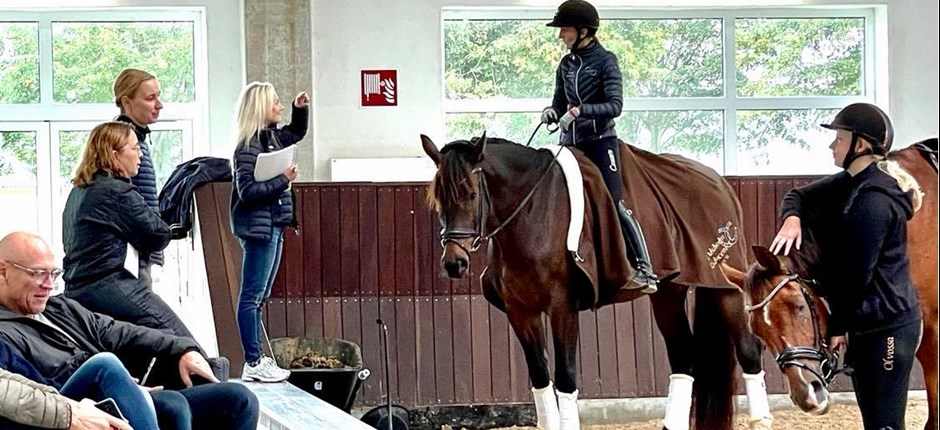 Et nyt tretrins-talentsystem i dansk paradressur skal sikre, at endnu flere dygtige ryttere fremover får mulighed for at udvikle sig og ride med på eliteniveau. Tiltaget blev skudt i gang i september og oktober med to åbne samlinger på Vilhelmsborg og Slangerupgård, hvor ryttere uden for den nuværende landsholdsbruttotrup fik mulighed for at ride foran landstræner Astrid Gemal. Holdleder Anette Bruun gav deltagerne en kort indføring i det nye talentsystem, mens Helene Bech og Marianne Riis Søborg fra rideudvalget var klar til at svare på spørgsmål om klassifikation, stævner og lignende.
- Der var stor interesse for samlingerne, og deltagerne var en god blanding af helt unge ryttere, der er godt på vej med deres ridning, ryttere med nye og unge heste, samt nye ryttere, der skal med ud at starte deres første internationale stævne næste år, siger Anette Bruun, der sammen med landstræneren nu skal have indplaceret de nye ekvipager i tretrins-talentsystemet.
I Parasport Danmark er der store forventninger til den niveauopdelte struktur, der skal sikre et mere dynamisk system for talentudviklingen i paradressuren. Øverst er bruttotruppen, hvorfra landsholdet, som repræsenterer Danmark til internationale mesterskaber, udtages. Herefter følger en observationstrup samt et tredje trin for nye ekvipager med udviklingspotentiale. Alle indplacerede ryttere følges tæt og har mulighed for løbende sparring og rådgivning hos landstræner Astrid Gemal og holdleder Anette Bruun. Støtten er dog differentieret, så de bedste ekvipager fortsat kan præstere på øverste niveau ved EM, VM og de Paralympiske Lege (PL).
- Den nye sportsplan sikrer, at vi gør de bedste endnu bedre, mens vi samtidig udvikler flere ryttere til på sigt at kunne begå sig på topniveau. Talentsystemet er blevet til på baggrund af en grundig proces med deltagelse af både landstræner, holdleder, rideudvalg og mig selv, og vi tror på, at det gør os i stand til i højere grad at møde rytterne det rigtige sted i deres individuelle udvikling, siger elitekonsulent Jonas Schmidt Christensen.
Næste skridt er, at de nye ryttere i tretrins-talentsystemet bliver inviteret til en velkomst og informationsdag den 14. november på Vejle Center Hotel, inden det i 2022 går løs med træningssamlinger for alle tre trin og hjemmebesøg for ryttere på øverste trin.
Følg med hos Paradressur Danmark på Facebook.