Rosengren pressede verdensmesteren i Tokyo
Cathrine Rosengren viste særdeles lovende takter i lørdagens semifinale mod verdensmesteren Qiuxia Yang i Japan Para-Badminton International, og danskeren formåede trods den seneste periode med knæproblemer at presse kineseren ud i tre sæt.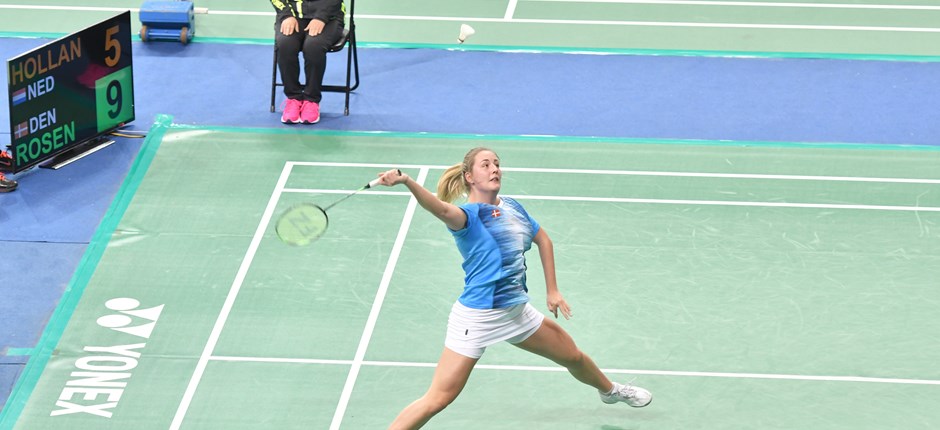 Danske Cathrine Rosengren viste lørdag morgen, at hun allerede er tilbage på et rigtigt højt niveau efter et længere skadesforløb, da hun pressede den forsvarende verdensmester Qiuxia Yang ud i tre sæt i semfinalerne ved Japan Para-Badminton International, der er testevent for næste års Paralympiske Lege i Tokyo. Mod slutningen af kampen havde danskeren imidlertid ikke mere at skyde med, og det endte med et nederlag på 14-21, 21-16, 10-21. Det var dog ikke overraskende, da Rosengren op mod turneringen kun har trænet få gange grundet knæproblemer.
- Det var dejligt at komme på banen i dag og spille en god semifinale. Til sidst var jeg helt flad, og det føltes som om, at min kondi var ikke eksisterende. Jeg kunne godt mærke, at jeg ikke har lavet noget i to måneder hverken badmintonmæssigt eller konditionsmæssigt eller noget som helst, så det var hovedsageligt også det, som jeg tabte på, sagde Rosengren efter kampen.
Selvom danskeren ikke spillede sig videre til søndagens finale, var hun alt i alt rigtigt god tilfreds med sin indsats.
- Taget det hele i betragtning så synes jeg, at det er positivt, at jeg har spillet, som jeg har spillet i løbet af ugen. Jeg ved, at det er små ting, der adskiller mig og Yang. Dét at jeg kan tage et sæt mod verdensmesteren efter en skadesperiode på to måneder uden nogen nævneværdig træning, det er lovende frem mod PL, siger den velspillende dansker.
Rosengren var efter kampen klar i spyttet omkring, hvorfor kampen forløb så godt.
- Jeg spillede ret frit og havde ikke for mange forventninger til mig selv. Derudover så lykkedes jeg i store dele af kampen med at holde min game-plan. Det gik først op for mig, da jeg havde 21 i andet sæt, at det gik så godt, som det gjorde. Jeg var bare helt fokuseret og kæmpede med alt, hvad jeg havde, siger Rosengren.
Nu venter der Cathrine Rosengren en længere turneringspause, og her skal spillet forfines, og derudover fortsætter genoptræningen af knæet.
- Min næste turnering er først i marts. Så først og fremmest skal jeg have helt styr på mit knæ. Det skal fortsat genoptrænes, så jeg slipper for mulige følgeskader. Udover det så skal jeg tilbage til træningen, og forhåbentligt kan jeg komme ind i en fast træningsrutine igen. Der skal indlægges noget cardiotræning, og så skal jeg udnytte, at jeg har tid til at dykke ned i de små detaljer omkring mit spil, siger det danske PL-håb.