Paraskytter sigter efter finalepladser ved EM i Norge
For første gang siden 2018 afholdes der igen EM i paraskydning. Danmark stiller med fem skytter ved mesterskaberne i Hamar med ambitioner om at skyde sig til tops.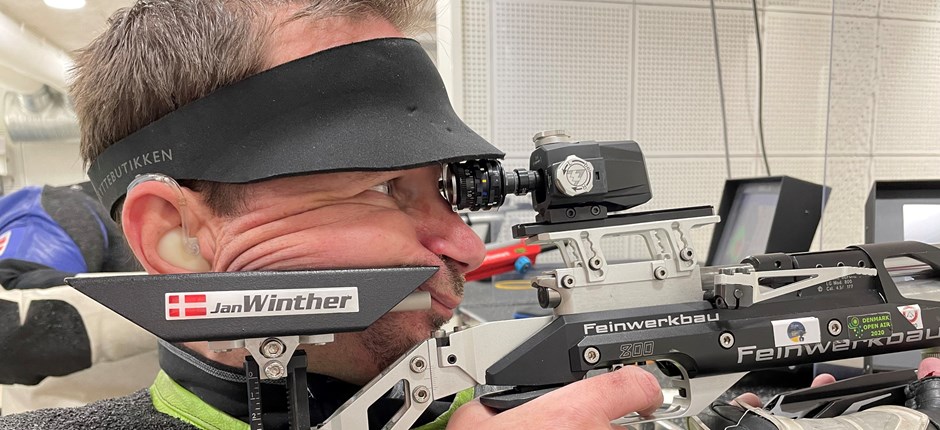 Efter års fravær skal Europas bedste paraskytter atter kæmpe om mesterskabstitler i disciplinerne riffel og pistol ved Para sport European 10m Championships.
Danmark stiller med et stærkt hold med både erfarne og nye skytter til Europamesterskabet, der finder sted fra den 13. – 17. marts i Hamar i Norge.
Jens Frimann fra Nykøbing Falster Skytteforening, Kasper Lousdal fra Boddum-Ydby Skytteforening og Jan Winther fra Bredstrup-Pjedsted Idrætsforening er alle velkendte navne i skyttesammenhæng og stiller alle op i riffelkonkurrencen.
Nye ansigter på skydebanen i mesterskabssammenhæng er Buster Antonsen fra Skyttelauget Kgs. Lyngby og Ditte Clausen fra Haslev Handicap Idræt. Begge stiller op som pistolskytter.
Både Buster Antonsen og Ditte Clausen skal gennem klassifikationsproceduren, hvis formål er at placere skytterne i en klasse, hvor de møder med tilsvarende funktionsnedsættelser og derved får en fair konkurrence.
Hos landstræner Jonas Jacobsson er der trods unormale forberedelser de seneste år stor optimisme. 
Han ser frem til igen at kunne deltage ved en World Shooting Para Sport-konkurrence, der ikke har været afholdt siden sommeren 2021, mens Europamesterskabet ikke har været afholdt siden 2018 som følge af corona.
- Ingen lande har i de sidste to år haft normal forberedelse. Det har vi heller ikke, men vi har arbejdet virtuelt med camera, hvor atleterne har siddet hjemme eller samlet nogle få stykker. Det har været kreativt og givet en lidt anden form for træning," siger Jonas Jacobsson og sætter ord på ambitionerne forud for mesterskabet.
- Vi forventer, at vi kvalificerer os til to finaler.
Parasport European 10m Championships arrangeres i fællesskab af European Shooting Confederation (ESC) og World Shooting Para Sport. 
Konkurrencedage for de danske skytter
Tirsdag den 15. marts
Kl. 9.15-10.30 10 m luftriffel stående herrer: Jan Winther, Jens Frimann, Kasper Lousdal
10 m luftriffel stående damer: Ditte Clausen
Finaler forventet dansk deltagelse
Kl. 14.30-15.00 herrer
Kl. 15.30-16.00 damer
Onsdag den 16. marts
Kl. 9.15-10.30 10 m luftpistol herrer: Buster Antonsen
Finaler
Kl. 12.30-13.00
Kl. 15.00-15.30 Mix team (en herrer og en Dame) 10 m luftriffel stående herrer Jan Winther og Ditte Clausen
Finaler fra kl. 17.10
Torsdag den 17. marts
Kl. 9.30-10.20 10 m luftriffel liggende herrer og damer: Jan Winther, Jens Frimann, Kasper Lousdal og Ditte Clausen
Finaler forventet dansk deltagelse
Kl. 11.15-11.45