Nye danske mestre i kørestolscurling
Sussie Nielsen og Kenneth Ørbæk fra Tårnby Curling Club slog de forsvarende mestre Helle Christiansen og Jack Brendle fra Hvidovre Curling Club i slutspillet for mixed double og vandt 3-1.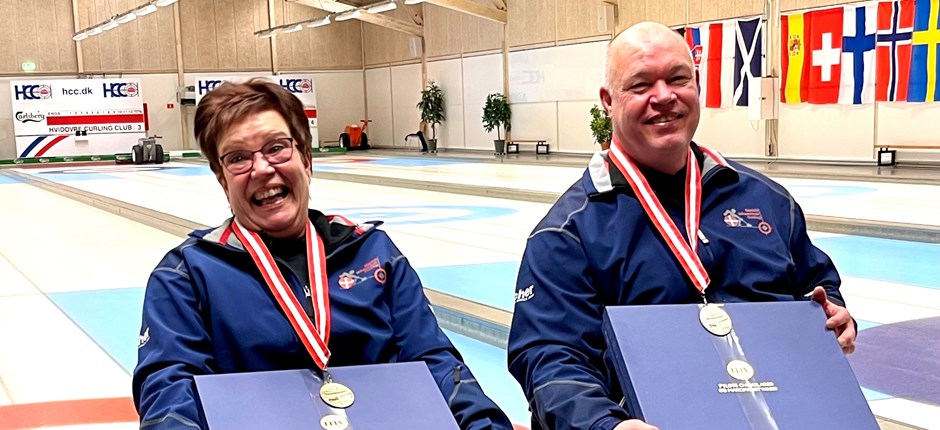 De første tre kampe var utroligt tætte, og kun en enkelt sten skilte de to finalister. Der skulle spilles bedst ud af fem kampe, og da Sussie Nielsen og Kenneth Ørbæk vandt den fjerde kamp med 9-1, kunne de dermed kalde sig for nye danmarksmestre 2022.
De to skal dermed repræsentere Danmark ved det første officielle verdensmesterskab i kørestolscurling for mixed double, der finder sted den 30. april til 6. maj i Lohja, Finland.
Ny træner
Sussie Nielsen og Kenneth Ørbæk har fået den danske spiller Kasper Viksten som træner. Kasper er en af de spillere, som i øjeblikket er i Beijing og repræsenterer Danmark ved Vinter-OL.
Både Sussie og Kenneth, Helle og Jack har tidligere spillet sammen på det danske landshold i mixed kørestolscurling, hvor man skal være fire spillere, hvor minimum den ene skal være af det andet køn.
Sussie og Kenneth var to af de fire spillere, der har været med til at vinde VM-sølv til Danmark i 2005 og fået Tårnby Sportspris i 2005.
Om mixed double
I mixed-Double skal der være en spiller af hvert køn på banen, og man lægger to sten på faste pladser, én i hus og en som garde i en farve (rød) og en sten (gul) som garde, alt efter hvilken farve, der starter med at sætte sten. Hvert hold har fem sten, som skal sættes i en fast orden.
Den ene spiller på holdet, der starter, skal sætte første og femte sten, den anden spiller sætter anden, tredje og fjerde sten.
Det, at mixed double kan spilles af to personer, gør det mere attraktivt at starte et hold op, da man kun skal være to, en af hvert køn, for at spille, i modsætning til at skulle finde fire spillere for at kunne starte et nyt hold op.
Kom og prøv
Skulle du/I have lyst til at prøve at spille, spilles der kørestolscurling i Esbjerg, Hvidovre og Tårnby. Kontakt Per Christensen, som er ansvarlig for kørestolscurling under Parasport Danmark, på telefonnummer 60642907, for nærmere oplysninger.

Læs mere om kørestolscurling her.