Nu skal Danmarks VM-modstandere findes
Torsdag den 7. juli kl. 13.30 trækkes der lod til VM-grupperne på Rådhustorvet i Vejle. De 12 højest rangerede lande på verdensranglisten deltager ved VM i kørestolsrugby og skal fordeles i to indledende puljer. VM afvikles fra 10.-16. oktober i DGI Huset Vejle.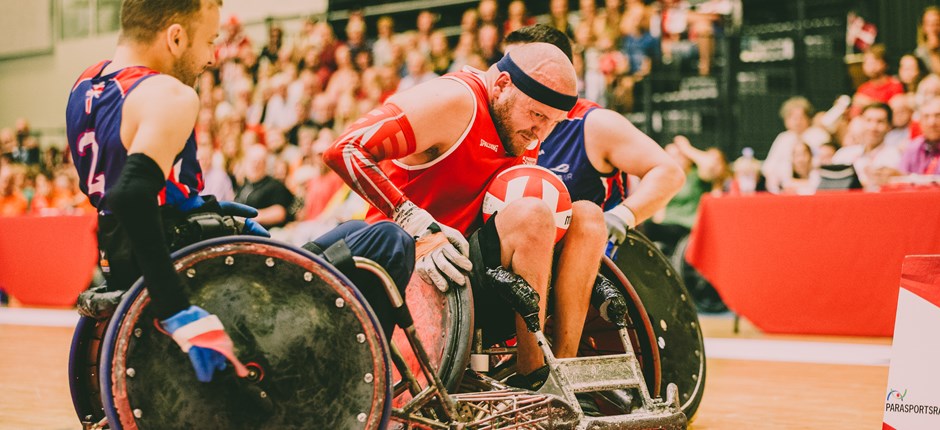 Med under 100 dage til åbningen af VM i kørestolsrugby får det danske landshold nu klarhed over, hvilke modstandere der venter i premierekampen og videre i resten af det indledende gruppespil ved slutrunden i Vejle. Blandt de mulige konkurrenter for landstræner Jason Regiers tropper er de forsvarende verdensmestre fra Japan, Storbritanniens PL-guldvindere fra Tokyo 2020 og de nykårede europamestre og kommende PL-værter Frankrig.
Torsdagens lodtrækning afvikles på Rådhustorvet i Vejle, hvor 1. viceborgmester og formand for Kultur- og Idrætsudvalget Dan Arnløv Jørgensen, Parasport Danmarks elitechef Michael Møllgaard Nielsen og Jason Regier skal assistere eventansvarlig Torben Nygaard fra Parasport Danmark med at fordele de 12 hold i to VM-puljer.
FØLG LODTRÆKNINGEN LIVE PÅ FACEBOOK HER
De tolv hold er fordelt i seks seedningslag baseret på holdenes placering på verdensranglisten. Øverste seedningslag med Japan og Storbritannien fordeles først i pulje A og B, og derefter følger andet og tredje lag. Fjerde seedningslag med Danmark og New Zealand, der er henholdsvis nr. 7 og 8 på verdensranglisten, springes over, og lodtrækningen fortsætter med femte og sjette lag. Når de første ti hold er fordelt, får Danmark som værtsnation lov til at vælge en af de to puljer, mens New Zealand fra samme seedningslag automatisk placeres i den anden pulje.
Om VM i kørestolsrugby 2022

Verdens 12 bedste kørestolsrugbynationer brager sammen i DGI Huset Vejle fra 10.-16. oktober 2022, når Vejle Kommune, Sport Event Denmark og Parasport Danmark er værter for WWR Wheelchair Rugby World Championship.
I Vejle får holdene de bedst tænkelige rammer for at præstere og vise sporten frem. Med placeringen i DGI Huset får spillerne optimale faciliteter, da tilgængeligheden er i top, og indkvarteringen kan foregå i umiddelbar nærhed på Vejle Center Hotel. Samtidig er placeringen centralt i byen optimal for både deltagere og for byens borgere, der får lov at tage del i en unik sportsbegivenhed. At byens borgere bakker op om parasporten har de tidligere vist senest ved EM-slutrunden i 2019, hvor der var udsolgt på lægterne i Spektrum, da Danmark tog en flot sølvmedalje.
Læs mere og køb billetter allerede nu på VM-hjemmesiden www.2022wrwc.com
Følg også forberedelserne på Facebook-siden 2022 Wheelchair Rugby World Championship og på det danske landsholds Facebook-side.