Nikolaj Mortensen fik debut i stafet og vandt sølv
Der er langt fra Bornholm til Abu Dhabi, men det var ikke nogen hindring for Special Olympics-løberen Nikolaj Mortensen i at tage den lange tur til ørkenlandet for at deltage ved World Summer Games i marts.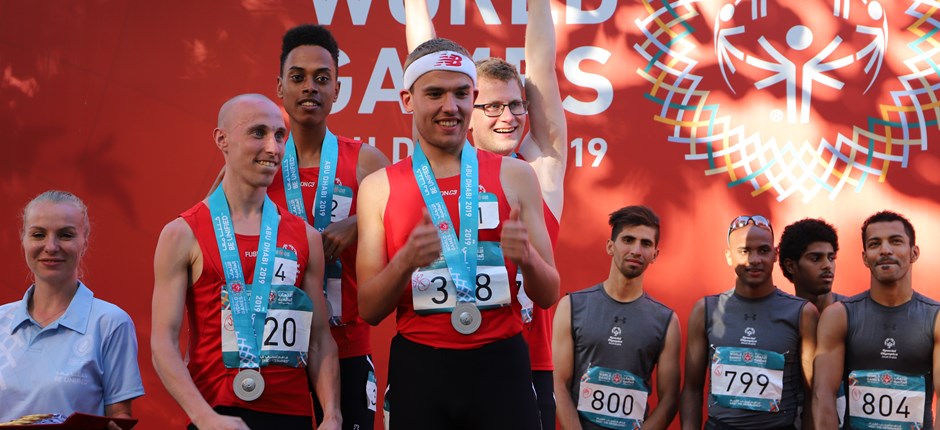 Det næste stykke tid bringer parasport.dk en artikelserie om nogle af de atleter, der repræsenterede Danmark i Abu Dhabi.
- Jeg var også afsted for fire år siden i Los Angeles, og der stod nogle andre klar i kulissen, men så fik jeg at vide, at grunden til, at jeg skulle med, var, at en af mine løbekammerater Lasse også skulle afsted, sådan så han ikke var den eneste fra Bornholm, der skulle rejse alene. Det var rigtig fint, for vi er gode kammerater, og vi ses en til to gange om ugen, fortæller Nikolaj.
Nikolaj Mortensen er egentlig langdistanceløber, og det forløb da også planmæssigt for ham på halvmaratondistancen, hvor han vandt bronze.
Lidt mere overraskende var det måske, at han, Adem Alamin Mohammed Adem, Lasse Kure Hansen og Mikkel Andersen snuppede sølvmedaljen på sprintdistancen 4 gange 400-meter.
- Jeg synes, da vi vandt sølv på 4 gange 400-meter stafet, det var en oplevelse, man ser tilbage på. Fordi der var ikke nogen af os, der havde løbet stafet før. Og vi havde kun én sprinter med, så derfor synes jeg, det var rimelig godt klaret af to langdistanceløbere, en mellemdistanceløbere og en sprinter at kunne hive en sølvmedalje hjem.
Hjemkomsten bød på modtagelse af klubkammerater ved færgen i Rønne, hvor de to medaljer blev vist frem. Fremadrettet er Nikolaj Mortensens plan at fortsætte med at løbe og forbedre sine personlige rekorder yderligere. Blandt andet står rekorden på 1 time og 18 minutter på halvmaratondistancen for skud.
Leder du efter en klub, hvor du kan dyrke atletik som Nikolaj eller en helt anden idrætsgren. Så besøg vores klubsøgningsfunktion og find en klub i nærheden af dig.
Om Nikolaj Mortensen
Alder: 23 år
Idræt: Atletik, løb
Klub: Nyvest Atletik
By: Åkirkeby
Om SOWSG 2019
Special Olympics World Summer Games er verdens største idrætsevent for mennesker med et udviklingshandicap. Eventet blev i 2019 afholdt i Abu Dhabi med mere end 7.500 deltagere fra 195 lande. Heriblandt 86 danske atleter.