Hvidovre-par vinder DM i paracurling
Esbjerg Curling Klub var i weekenden 13.-15. januar vært for DM-finalerne i mixed double i kørestolscurling.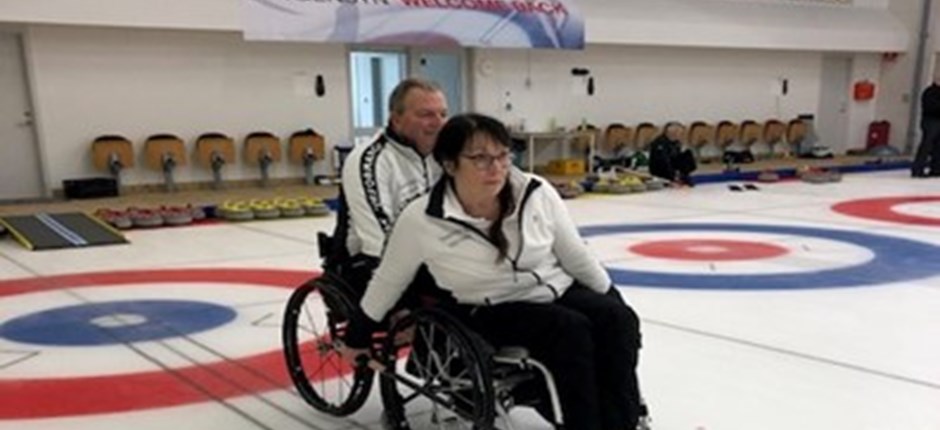 Finalerne blev spillet som bedst ud af fem kampe. En kamp fredag, to kampe lørdag og to kampe søndag eller til det ene hold havde vundet tre kampe.
Esbjergs (ECK) hold, der bestod af skipper Preben G. Nielsen og Beth Petersen mødte skipper Helle Christiansen og Jack Brendle fra Hvidovre (HCC).
Tæt start
Den første kamp blev en meget tæt kamp. ECK-holdet var foran med 5-1 efter fjerde ende, men HCC kom tilbage og fik udlignet til 6–6 inden den ottende og sidste ende. Spændingen varede helt til sidste sten, som skulle måles. Esbjerg var nærmest midten med ca. en halv centimeter og vandt derved kampen 7–6.
Revanche til Hvidovre
Lørdag blev den anden kamp spillet, og det var tydeligt, at HCC havde noget at revanchere fra fredagens tabte kamp. De spillede godt og vandt kampen med 16–4.
Også i lørdagens anden havde HCC overtaget. De vandt endnu en solid sejr med 13-4 og bragte sig dermed foran med 2-1- i kampe. Dermed kunne søndagens første kamp blive afgørende, da endnu en Hvidovre-sejr ville sikre sjællænderne DM-titlen.
Den chance havde Hvidovre ikke tænkt sig at spilde. De fortsætte det  gode spil, vandt kampen med 11–2 og kunne dermed fejre den samlede sejr og titlen som Danmarksmestre 2023.
Om kørestolscurling
I mixed double skal der være en spiller af hvert køn på banen, og man lægger to sten på faste pladser, én i hus og en som garde i én farve (rød) og en sten (gul) som garde, alt efter hvilken farve, der starter med at sætte sten.
Hvert hold har fem sten, som skal sættes i en fast orden.
Den spiller på holdet, der starter, skal sætte første og femte sten, den anden spiller sætter anden, tredje og fjerde sten.
Det, at mixed double kan spilles af to personer, gør det mere attraktivt at starte et hold op, da man kun skal være to, en spiller af hvert køn, for at spille, i modsætning til holdspil, hvor man skal finde fire spillere for at starte et nyt hold op.
Skulle du/I have lyst til at prøve at spille, spilles der kørestolscurling i Esbjerg, Hvidovre og Tårnby.
For nærmere oplysninger kontakt Per Christensen, som er ansvarlig for kørestolscurling under Parasport Danmark, på tlf. 60 64 29 07.
label