Fornem hæder til Lisa Kjær Gjessing og Bjarne Johansen
Fredag d. 19. august blev en helt særlig dag for parataekwondokæmper Lisa Kjær Gjessing og landstræner Bjarne Johansen, da de begge blev optaget i den officielle Taekwondo Hall of Fame.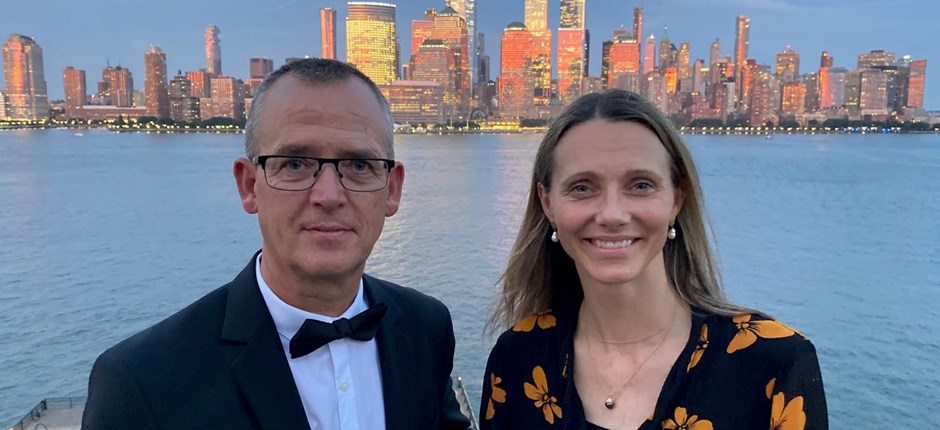 Overrækkelsen foregik i fantastiske omgivelser på Hyatt on the Hudson med New Yorks Manhattan som udsigt.
Lisa Kjaer Gjessing blev optaget i kategorien " Outstanding Player" – i øvrigt som den første para-atlet nogensinde
- Jeg er meget stolt og beæret over den anerkendelse vi har fået ved at komme i Hall of Fame. Det var en stor oplevelse at møde nogle af de gamle atleter og trænere og mennesker, der i øvrigt har udviklet sporten og trådt nogle utroligt store skridt for, at sporten er så udviklet som kampsport i verden, som den er i dag, siger hun og fortsætter:
- Jeg er særligt glad for, at det var sammen med Bjarne, da han jo har været min træner stort set altid. Jeg ved, hvor meget han har fortjent den, og det er samtidig hans fortjeneste, at jeg har fået den, lyder det fra Lisa Kjær Gjessing, der har vundet adskillige EM- og VM-titler samt paralympisk guld i parataekwondo.
Bjarne Johansen, der er træner for Lisa Kjær Gjessing, blev optaget i kategorien i "Outstanding Coach". Han var naturligvis også glad og stolt over anerkendelsen:
- At opnå en plads i Hall of Fame og at få den anderkendelse sammen med kampsportens største og første pionere, det betyder enormt meget for mig. Flere af dem, der har en plads her i Hall of Fame, er blandt de allerførste og største i historien, feks. Grand Master Sei Hyeok Kim fra Korea, der er den mest vindende olympiske coach, samt Grand Master Jhoon Rhee og Grand Master Joseph Hayes, der begge har stået på gulvet med folk som Bruce Lee og Chuck Norris, der er legender i vores sport.
Både Lisa og Bjarne er blevet tildelt lifetime membership af Official Taekwondo Hall of Fame.
For at opnå nominering til "The Officiel Hall of Fame", skal man nomineres af en national delegeret, der laver en indstilling på ens meritter eller ens livslange engagement i sporten.