Flere debutanter vandt medaljer til årets DM i paragolf
I weekenden den 25. - 27. september blev DGU's DM i paragolf afholdt i Hørsholm Golfklub, hvor flere debutanter fik medaljer om halsen.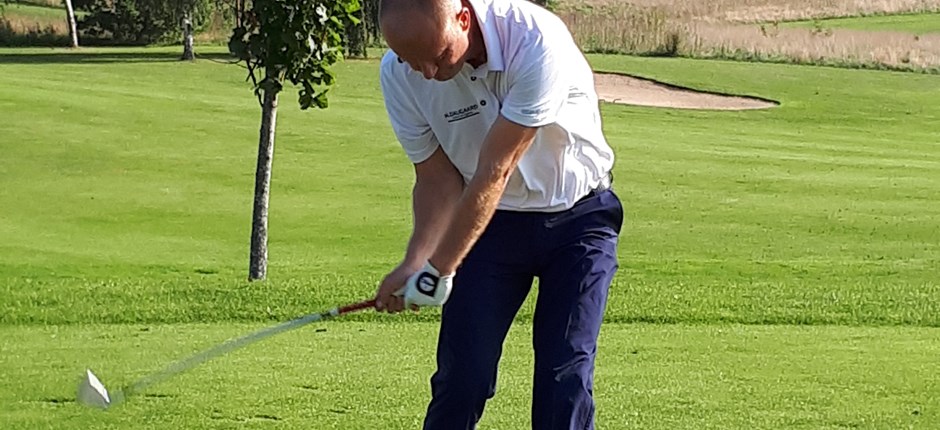 Den 25. - 27. september blev det årlige DM i paragolf afholdt, og Hørsholm Golfklub stillede baner, faciliteter og en stor gruppe frivillige til rådighed for årets 31 deltagere.  
Spillerne var opdelt i fire rækker:
– En A- og B-række for fysisk handicappede og blinde/svagtseende (kategori 1)
– En A- og B-række for spillere med et udviklingshandicap (kategori 2 - Special Olympics) 
A-rækkerne i begge kategorier dystede i slagspil, mens B-rækkerne spillede en stableford-turnering. 
I A-rækkens kategori 1 bød årets DM bød på et interessant comeback, da Stefan Mørkholt fra Gyttegaard GK var tilbage efter to års turneringspause. I Stefans fravær vandt Flemming Rasmussen fra Birkemose GK DM-pokalen i 2019, og derfor skulle det afgøres, om vandrepokalen kun var til låns. Det blev dog ikke Rasmussen der pressede Mørkholt. Unge Rasmus Løt fra Kalø Vig GK var tæt på at snuppe sejren i kraft af en rigtig god finale runde, hvor Løt kun sluttede to slag efter Stefan, som gik i 74/76. Den forsvarende mester Flemming Rasmussen vandt bronze.
B-rækkens stableford-turnering i kategori 1 blev et opgør mellem debutanten Daniel Rørnæs fra Værebro GK og de to jyske spillere, Kurt Boisen fra Haderslev GK og Hans-Henrik Rønnov fra Skive GK. Det blev til en debutantsejr, hvor Rørnæs' 61 point sikrede ham guldet.
I Special Olympics-spillernes A-række viste Casper Holst-Christensen fra Hillerød GK format.  Hillerød-spilleren blev en suveræn vinder, hele seks slag bedre end debutanten Jonas Lolk Frederiksen fra Mølleåen GK. Bronzemedaljen gik til rutinerede Troels Højbjerre fra Helsingør GC.
B-rækken med Special Olympics-spillerne havde flere interessante debutanter, der blandede sig i medaljekampen. Frederik Villads Bech fra Helsingør GC blev med 65 point bronzevinder, Frederik Brokfelt-Christiansen tog sølvet med 67 point, mens Annelene Zobbe Mortensen fra Helsingør GC med 72 point tog sig af guldmedalje og pokal.
Vindere i DM i paragolf 2020
A-rækken, kategori 1: Stefan Mørkholt
B-rækken, kategori 1: Daniel Rørnæs
A-rækken, kategori 2: Casper Holst-Christensen
B-rækken, kategori 2: Annelene Zobbe Mortensen