Danske svømmere med fremme ved VM
Seks finaler ud af ti mulige, to danske rekorder og to fjerde-og en femteplads vidner om en mere end godkendt indsats af de tre danske svømmere, der stillede op ved VM i parasvømning i London.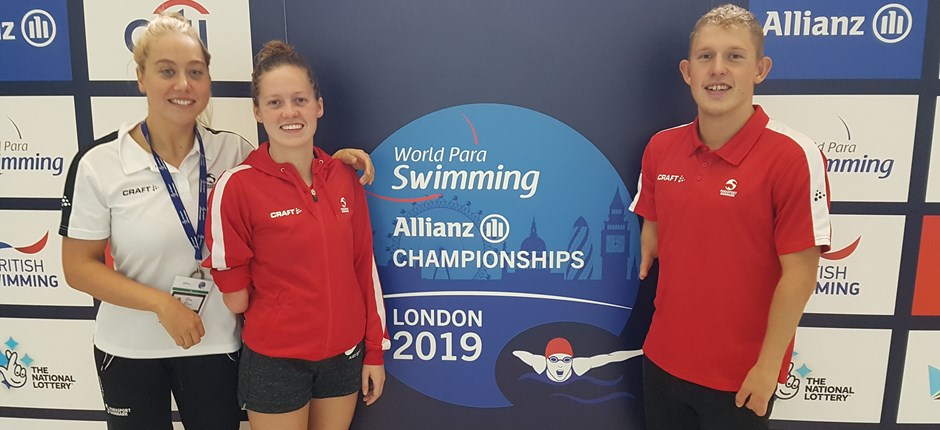 Inden VM var den danske målsætning 6-8 finalepladser og på en god dag en medalje. Den blev ikke helt opfyldt, men landstræner Bjarne Kragh er alligevel godt tilfreds
– Medaljen kom desværre ikke i hus, men med Niels Korfitz Mortensens fjerdeplads i blandt andet 100 fly, hvor han taber bronzen med to tiendedele, må man sige, at vi var meget tæt på at hele målsætningen blev opfyldt.
Amalie Vinther var med fem starter den danske svømmer, der var i aktion flest gange i det olympiske bassin i London. Hun nåede finalen og en ottendeplads i 100 m fri samt en flot 5. plads 400 m fri i ny dansk rekord på 5:07.56 og slog dermed sin egen fire år gamle rekord.
Niels Korfitz Mortensen svømmede sig i finalen i fire ud af sine fem starter og blev bl.a. nummer fem i 100 m ryg samt nummer fire i 100 m fly i ny dansk rekord, som nævnt kun to tiendedele fra bronzen. I 200 m ind. medley svømmede han ligeledes et stærkt finaleløb og kom i mål som nummer fire. Umiddelbart efter blev vinderen af finalen diskvalificeret, så en kort overgang lå Niels til bronze – men diskvalifikationen blev omstødt, og Niels endte dermed på fjerdepladsen.
De gode resultater lover godt for det kommende år, vurderer landstræner Bjarne Kragh:
– Vi får to danske rekorder med hjem – det er rigtig godt for arbejdet frem mod Tokyo, at der igen er fremgang at spore. Vi skal helt tilbage til 2015 for Amalies vedkommende og 2016 for Niels' vedkommende, før de sidst satte danske rekord i de nævnte løb.
Den sidste danske svømmer, Laura Martens Christensen, havde svære odds, da hun skulle vente en hel uge på at komme i bassinet i 100 m bryst i klasse SB8. 100 bryst damer SB8. Trods en god optakt og opvarmning gik den berømte klap desværre ned, og tiden 1:37.34 gav en samlet niendeplads lige uden for finalen.
– Selv om træningen gik rigtig godt, så er det ikke en fordel at skulle vente så længe på at komme til at præstere, men målet for Laura er stadig at komme under MQS-kravet til de Paralympiske Lege (PL) i Tokyo og så håbe, at der er kvotepladser nok til, at to piger kan udtages, forklarer Bjarne Kragh.

Det mentale bliver afgørende
Med under et år til legene i Tokyo er det især det mentale aspekt, landstræneren har fokus på.
– Man skal være stærk og have de rigtige værktøjer til at kunne præstere, når det virkelig gælder. Svømmerne er fysisk i form – det skal tankerne også være. Her har vi været lidt udfordrede fra tid til anden – men svømmerne formåede ved dette VM at vise, måske ubevidst, at de har ret til at være her. Der var mere udstråling og løftet pande – og det blev et godt VM.

Fremadrettet gælder det om at tilkæmpe sig kvotepladser til PL, og holdet stiller derfor op ved stævner i Polen sidst i november og i Norge sidst i januar i håbet om at kunne tilkæmpe sig flere kvotepladser, inden fristen lukker den 31. januar 2020.